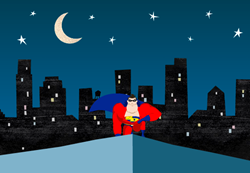 It's really important for us to monitor which cards are performing well. Whether for Birthdays, Christmas or Father's Day, keeping track of this gives us a good idea of what we're doing right and helps us to formulate plans for our future animated ecards
Teddington, UK (PRWEB) June 10, 2014
Katie's Cards, a Teddington-based web company which specialises in the creation of occasion ecards, has announced the most popular Father's Day ecard in time for the annual day for Dad on Sunday 15th June.
The ecommerce site which operates on a member subscription basis for UK, US, Australian and European customers has revealed that the e-greeting sent the greatest numbers of times for Father's Day is the 'Superdad' ecard. The retro-style design features a costumed comic-book style hero as he flies, runs and jumps through the streets of the city.
Owner of Katie's Cards, Katie Davies, comments, "It's not surprising that the 'Superdad' ecard has proven popular with our members. Father's Day is the time when we get to let Dad know he's our hero and this funny yet meaningful e greeting is a great way to do just that."
Narrowly missing out on the top spot for Father's Day was the 'Perfect Dad' ecard, a humorous look at the qualities required of the ideal dad. The 'Animals' Father's Day design followed in the ratings as the third most popular ecard within the category.
Father's Day occurs on the third Sunday in June and, unlike Mother's Day, is celebrated on the same date in the UK as in the US.
Analysis of which ecards are most favoured is invaluable information according to Katie Davies, who explains: "It's really important for us to monitor which cards are performing well. Whether for Birthdays, Christmas or Father's Day, keeping track of this gives us a good idea of what we're doing right and helps us to formulate plans for our future animated ecards."
The company is keen to encourage input from its members about which cards they like most or if there's a specific style or occasion missing from their range of over 350 email cards. A recent blog post written by Katie thanked members for card suggestions and encouraged more recommendations via the website and the organisation's social media channels.
Katie's Cards offer 3, 12 and 24 month membership options with the annual subscription priced at £7.50 for UK customers.
About
Katie's Cards is a small, family-run, ecard company based in Teddington, Middlesex. The ecards on the website are exclusively available to members of the Katie's Cards website who can send unlimited ecards for the duration of their subscription. For more information and to preview ecards for Christmas, Birthdays and much more please visit katiescards.com
Contact
Telephone: +44 208 274 2069
Facebook: facebook.com/Katies.ecards
Pinterest: pinterest.com/katiescards/
Copyright information: This article is free for reproduction but must be reproduced in its entirety, including live links & images; this copyright statement must be included.