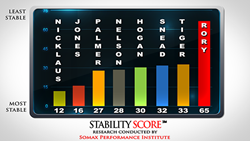 There is a very good correlation between Stability Score (TM) and lifetime performance among elite golfers.
Tiburon, CA (PRWEB) June 06, 2014
Researchers at Somax Performance Institute have discovered a new golf swing metric that correlates well to overall performance in elite golfers--their Stability Score™.
By measuring the change in the angle of their knees (Knee Angle), researchers have been able to accurately compare the stability of famous golfers across the past century. How many degrees a golfer changes his Knee Angle between address and impact is his Stability Score™.
A video analysis of Rory's swing can be seen at http://www.somaxsports.com/video.php?analysis=rory-mcilroy-most-unstable-swing-in-golf-history.
Information on Somax can be found at http://www.somaxsports.com.
Information on the Somax Power Hip Trainer can be found at http://www.swing-speed.com.
Rory McIlroy was found to have a Stability Score™ of 65º--which is 2-5 times less stable than golf legends Tiger Woods, Sam Snead, Ben Hogan, Bobby Jones, Arnold Palmer and Jack Nicklaus. Nicklaus, for instance, changed his Knee Angle between address and impact only 12º--as can be seen in the Somax infographic.
This extreme up and down motion during his swing accounts for Rory's up and down performance in golf, winning in the early rounds and losing in the later rounds. Or winning one week on the Euro tour and losing the next week on the PGA tour.
Replicating Rory's Knee Angle change shows that he bounces up and down between address and impact a full 5 1/2", which is more than 5 times the height of the sweet spot on his driver. It is as if Rory is trying to swing his driver from the deck of a ship heaving in a storm, or while bouncing up and down on a pogo stick.
"The correlation between their Stability Score™ and overall performance is quite striking in golf greats," says Bob Prichard, President of the Somax Performance Institute. "While other metrics are associated with distance, the Stability Score™ is the first golf swing metric associated with lifetime performance. Jack Nicklaus, considered the greatest golfer of all time, had a Stability Score™ of just 12º. Bobby Jones, considered by many as Jack's greatest predecessor, was second with a Stability Score™ of 16º. Palmer, Hogan, Snead, Woods and Nelson are all in the high 20's or low 30's with comparable lifetime performances."
In addition to the biggest bounce in golf history, Rory also makes radical changes in his Spine Angle and Front Spine Angle between address and impact, swing metrics found by Somax to be associated with accuracy. Rory's overall fairway percentage this year is just 55%, with lows of 35% and 48%. He changes his Spine Angle and Front Spine Angle a wildly excessive total of 42º between address and impact.
"If the front wheels of your car changed their alignment 42º," states Prichard, "you could never keep it on the road, just as you can't keep your drives in the fairway. Ideally, you want no change in your axes of rotation to insure that your clubs are accurate. This was achieved by Iron Bryon, the ball hitting robot that repeatedly hit 280 yard drives into a 10 yard circle."
There is also evidence that Rory's swing has been modeled after the fake drawing of Ben Hogan's impact position on the cover of Five Lessons. In that drawing, Hogan's real Front Spine Angle at impact was increased from 16º to 26º in order to make the illustration more dynamic. Rory's Front Spine Angle at impact is precisely 26º.
Finally, Rory has adopted the downswing sequence of a professional golfer who went winless his first 9 years on tour--Ben Hogan.
A Somax-trained golfer the same age, height and weight as Rory increased his average drive from 290 to 350 after his flexibility, hip strength and downswing sequence were improved. His fairway percentage at that distance is 90%, due to the reduction in change in his spine angels. He also maintains a Stability Score™ of just 12º by training three times a week on his Somax Power Hip Trainer.
Contact:
Bob Prichard
Somax Performance Institute
4 Tara Hill Road
Tiburon, CA 94920
415-435-9880
bprichard(at)somaxsports(dot)com
http://www.somaxsports.com