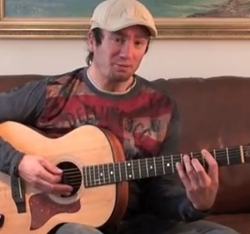 The great thing about this song is that there is only one chord progression and two strumming pattern
(PRWEB) June 04, 2014
Beth starts off this easy beginner acoustic guitar lesson by briefly performing the song so you can hear what it sounds like. Beth says that you need to put a capo on the 2nd fret to be in the correct key. Beth first goes over the chords that are used in the song as follows; Am (A minor), C, Em (E minor) and D. "The great thing about this song is that there is only one chord progression and two strumming pattern," says Norman. Beth demonstrates the first strumming pattern as consisting of only down strokes and the second pattern as, down, down, down, down, up, up, down, down, down, up, which she says uses the string slapping technique to properly execute and this patterns are played once for each chord. Strumming pattern number one is for the pre chorus only and pattern number two is for everything else. Complete chord charts as well as guitar TAB's are available for this easy beginner acoustic guitar lesson at SongTabs.com.
A Capo, short for capotasto, which is Italian for "head of fret board," is a device used on the neck of a fretted instrument to shorten the playable length and raise the pitch.
Daft Punk is a Electronic Music due from Paris France who reached significant popularity in the late 1990's and are considered to be a big part of the French House scene. There live shows are visually stimulating due to the obscure costumes wore by the duo and the extravagant light and laser displays. In the course of their career they have released four studio albums and have been nominated for three Grammy Awards and was awarded one Grammy Award for best live album.
Beth Norman
Started playing the guitar at the age of 15 and started her first band only after 3 months of playing. She put up her first YouTube tutorial video in 2009 and has gained 40,000 subscribers and over 8 million views and counting.
About SongTabs.com
SongTabs.com is a great online resource for learning to easily play your favorite songs on the guitar. With several great instructors and a constant growing catalog of songs, everyone can learn to play there favorite songs.