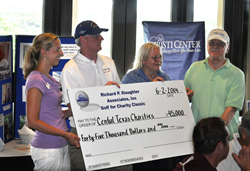 Austin, Texas (PRWEB) June 05, 2014
Richard P. Slaughter Associates, an Austin-based wealth management and financial planning firm, awarded $45,000 to local charities on June 2, 2014 at the firm's 6th Annual Golf for Charity Classic played at Twin Creeks Country Club. The contribution raised Slaughter's six-year total to $175,000 and provided $15,000 each to three Central Texas charities: Texas Parent to Parent, The Christi Center, and CARY Council on At-Risk Youth.
The client-appreciation event provides Slaughter Associates an opportunity to benefit Austin area nonprofits serving the local community, permitting their donations to have the greatest impact.
"Helping local organizations that are serving people in our hometown has always been the priority since we began this event," said Brooks Slaughter President and CEO. "Our clients, partners and sponsors have responded in kind allowing the event to grow and increase the contribution each year, and we're very thankful to them for that support."
Each of the selected charities provides unique services to people who likely never expected to need such support. Texas Parent to Parent provides peer-matching services to families raising children with disabilities, chronic illness or other special health care needs. Counseling materials, training and school curriculums are also provided.
The CARY center offers an Aggression Replacement Training Program for 600 middle school students across 10 Austin schools. The program helps at-risk youth better handle hostile environments that surround them and serve as a detriment to their learning, safety and social adaptation.
The Christi Center is a grief support organization that provides peer-based support groups information/referral, outreach and education on grief issues, and limited individual counseling. The peer-based support group model helps to 'normalize' the grief experience by connecting the bereaved with others who have experienced losses of a similar nature.
Slaughter's Golf for Charity Classic hosted more than 100 golfers with numerous corporate sponsors contributing to the support of the charities including title sponsor Further Lane Income Solutions and gold sponsors CWS Capital Partners LLC, and Vista Lending.
About Richard P. Slaughter Associates
Richard P. Slaughter Associates is a leading Austin-based wealth management and financial planning firm. Slaughter Associates delivers a comprehensive financial approach to its clients by providing financial planning, asset management, ongoing education and a lifespan relationship for a personal and individualized service. This approach is unique in a financial industry that is often segmented and outsourced. By committing to each of these important components, Slaughter Associates charts a path to reach the individual financial goals of its clients.
Founded in 1991 in Austin, Texas by Richard P. Slaughter, Slaughter Associates is one of the original fee-based firms in the nation. In 2010, the firm launched a new division to embrace the business community with RPS Retirement Plan Advisors. Texas Monthly has recognized Slaughter Associates for its customer service as a FIVE STAR Wealth Manager for six consecutive years with individual honors for each member of the executive team. Slaughter Associates is a NABCAP Premier Advisor, recognized for its commitment to maintaining top business standards, first-class financial management capabilities and dedication to preserving transparency in the financial services industry. The firm is also a distinguished Best Places to Work, honored by the Austin Business Journal for nine consecutive years.