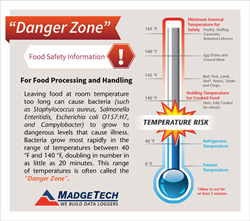 Warner, NH (PRWEB) June 09, 2014
MadgeTech Inc. is a global leader in data logger manufacturing and data logging solutions. The highly knowledgeable staff is equipped to customize solutions to fit applications of a broad range of industries. The food and meat industries rely upon the data monitored during processing to sustain quality and HACCP compliance.
Donahue's certification as a HACCP Manager compliments and reinforces his wealth of knowledge and expertise in the area of safe food handling and regulation compliance for the meat and food industries.
HACCP (Hazard Analysis and Critical Control Points) programs are created to assist food processors with monitoring and ensuring compliance to FDA and USDA standards and regulations. The critical control points and HACCP principles vary depending upon the product being processed or handled. Customizing individual HACCP programs and processes requires the correct implementation of data loggers and data logging systems to provide a comprehensive view and record of specific variables, such as temperature, humidity, and pH levels occurring throughout each critical food processing step.
According to the CDC, 94% of all foodborne illnesses are caused by biological hazards that thrive when foods enter temperatures between 40°F and 140°F. This is known as the Food Danger Zone. The number of these pathogens can be greatly reduced with prudent product handling and taking simple, yet important, measures to ensure safe deliveries.
The chart seen here illustrates the optimum temperature zones for selected foods and what to avoid.
In order to keep food out of these danger zones during processing, companies need to be able to track the temperature of the environment that the food is in at all times. Once the facility has identified the critical control points that need to be measured, they are able to safely process and prepare the food.
"I'm here to let processors and food handlers know how to get the data they need in order to monitor the critical control points that are vital to their business," explains Donahue. This data can be collected using the MadgeTech Data Loggers and easily organized using the MadgeTech software.
With this certification comes Donahue's ability to consult with meat, poultry, and food processors to assist with their HACCP programs. Clients can be confident in Donahue's guidance and benefit from his expertise about data loggers and how they are used to support HACCP programs.
Data loggers designed for food processing and handling applications are safe for contact with food and easily sanitized. They record accurate temperature information to assure that food is kept in the optimum environment in order to reduce the risks of potential product degradation associated with processing.
Tom Donahue will be exhibiting MadgeTech products and services June 19th through 21st at the 75th annual AAMP (American Association of Meat Processors) Convention in Milwaukee, Wisconsin.
MadgeTech's complementary HACCP consultations can be arranged by calling MadgeTech at (603) 456-2011. Poultry and egg processors can also receive a free Introductory Poultry and Egg HACCP Compliance Booklet by going to http://www.MadgeTech.com/poultry-haccp. This comprehensive booklet gives an overview of HACCP regulations for the poultry and egg processor, as well as information about data loggers and how best to integrate them into a HACCP compliance program.
For more information, please email info(at)MadgeTech(dot)com or call our knowledgeable sales staff at (603) 456-2011 today.