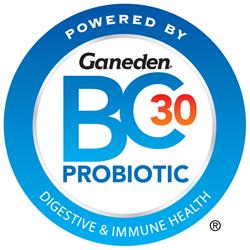 Cleveland, OH (PRWEB) June 10, 2014
Ganeden Biotech is pleased to announce that GanedenBC30 has received numerous international regulatory approvals and is now being shipped to six of the seven continents. This means that GanedenBC30's remarkable digestive and immune benefits are now available globally for food and beverage fortification.
The global market of probiotic ingredients, supplements, and foods is expected to reach nearly $27.1 billion in 2013 and climb at a compound annual growth rate of 6.2% over the next five years to reach $36.7 billion in 2018, according to Wellesley, MA- based technology markets research firm BCC Research.
"The international probiotic market is growing at a breakneck pace, and the interest in GanedenBC30 is astounding," said Mike Bush, Senior VP at Ganeden Biotech. "Achieving a Global footprint for GanedenBC30 has been an ongoing goal for Ganeden Biotech that could only be achieved by a significant investment in international regulatory compliance and patent prosecution, working with international distributors and continuing to publish studies in peer reviewed journals that support claims for safety and efficacy."
Each country has a unique set of regulatory guidelines for food and beverage ingredients. The overall process is very thorough and can take anywhere from weeks to years. Ganeden Biotech has received regulatory approvals for GanedenBC30 in over sixty countries throughout North America, Asia, Europe, South America, Africa, and Oceania; which has resulted in six international product launches in just the first quarter of 2014.
By the end of the year Ganeden expects to receive approvals in six additional countries; with many more to come in 2015. For more information on the availability of GanedenBC30, please contact Ganeden Biotech.
###
About Ganeden Biotech
Ganeden Biotech is at the forefront of probiotic research and product development with an extensive library of published studies and more than 100 patents for probiotic technologies in the food, beverage, animal health, and now personal care ingredients markets. Ganeden is best known for GanedenBC30 (Bacillus coagulans GBI-30, 6086), its patented, FDA GRAS, highly stable probiotic ingredient. Ganeden's newest ingredient, Bonicel, is the first science-backed, probiotic-derived, personal care ingredient shown to dramatically reduce signs of aging. For more information about Ganeden Biotech and licensing opportunities visit Ganeden Biotech.
About GanedenBC30
Introducing GanedenBC30® (Bacillus coagulans GBI-30, 6086), Ganeden Biotech's patented probiotic ingredient that can be found in more than 100 leading food, beverage and companion animal products throughout the world. Unlike most other probiotic strains, GanedenBC30 is a spore-former which makes it highly stable and allows it remain viable through most manufacturing processes, three years of shelf life and the low pH of stomach acid. The efficacy of GanedenBC30 is backed by 17 published studies showing digestive and immune support and GanedenBC30 has an exceptional safety record with FDA GRAS status from the United States FDA. It can be formulated into virtually any product that is baked, boiled, frozen or squeezed… including all hot or refrigerated beverages! For more information, please visit Ganeden Biotech or GanedenBC30.