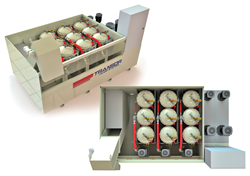 Elk Grove Village, Illinois (PRWEB) June 10, 2014
Transor Filter will feature the latest filtration systems at IMTS, September 8-13, 2014 in the Gear Grinding Pavilion, Booth N-7347 at McCormick Place, Chicago, IL. They have been an exhibitor in every IMTS since 1978.
This year will be focused on several new applications for One Micron Filtration (OMF) including ceramic applications and filter for crankshafts.
The new filter on display will be a large centralized system that features 270 gal/min coolant flow, automated sludge handling and a new diagnostics system that enables Transor technicians to monitor a unit's performance via an online interface.
For complete details, contact Transor Filter USA; 515 Busse Road, Elk Grove Village, IL 60007, 847.640.0273, FAX: 847.640.0793 or email info(at)transorfilter(dot)com.
ABOUT TRANSOR FILTER
Transor Filter is a world leader in providing filtration solutions for a variety of manufacturing applications such as grinding, honing, lapping, super finishing and EDM. In addition, Transor manufactures a complete line of high performance EDM dielectrics and grinding oils. Over 18,000 Transor units have been installed in over 30 countries. Transor has sales offices in the US, Europe and Asia providing sales and service.