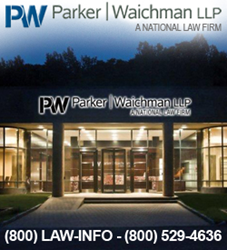 "Traumatic brain injuries, because they are often accidental in nature, may occur due to the actions of another party. said Gary Falkowitz, Managing Attorney at Parker Waichman LLP.
Port Washington, New York (PRWEB) June 05, 2014
A study, conducted by an emergency medicine physician at Children's Hospital of Pittsburgh of UPMC, revealed an almost 30 percent increase in traumatic brain injury (TBI) rates in the period from 2006 to 2010 in United States emergency departments (ED), according to a May 14, 2014 report in the Journal of the American Health Association (JAMA). The study was led by Jennifer R. Marin MD, MSc.
The U.S. Centers for Disease Control and Prevention (CDC) describes TBI as a serious public health concern, which led to the recent study that endeavored to understand TBI-related ED visits. The research was conducted as a population-based descriptive epidemiological study of U.S. TBI visits to EDs from 2006 to 2010 and utilized the Nationwide Emergency Department Sample (NEDS) database, which includes 25-50 million visits from over 950 hospitals annually. Most of the increase seen in TBI involved concussions or unspecified head injuries, according to JAMA. The largest rate of increase was seen in young children under the age of three and adults who were over the age of 60.
In addition to the NEDS data, the study authors also utilized U.S. census data to determine incidence rates, as well as the burden of TBIs on the U.S., according to a statement issued by Children's Hospital of Pittsburgh of UPMC on May 13, 2014.
"The need for deeper understanding of what is leading to the increase of TBIs must be made so that appropriate measures may be taken to help reduce dangerous outcomes related to these injuries," said Parker Waichman Managing Attorney, Gary Falkowitz.
During the study period, the TBI increase rate was eight times greater than the increase seen in all ED visits and is believed to be due to a number of factors, including increased exposure to, knowledge of, and diagnoses of TBI, and a combination of these factors. The researchers also believe that TBI increases seen in very young or older patients may be indicative of a lack of benefit from public health interventions, including concussion, helmet laws, and safer sports practices, according to the JAMA report. The researchers found that the majority of the visits for TBI did not occur at trauma centers, and, while almost one-third of the TBI visits involved children, less than 2 percent of the visits took place at pediatric EDs, pointing to mounting TBI care at non-specialized care centers, the JAMA report indicated.
"Traumatic brain injury is an important cause of morbidity and mortality each year," Dr. Marin said. "There has been widespread attention to traumatic brain injury, specifically in terms of prevention, in the last decade by policy makers and health professionals. Large-scale studies that assess national statistics and trends are one of the few ways we have to understand the scope of the problem," Dr. Marin added, according to a statement issued by the Children's Hospital of Pittsburgh. Dr. Marin is also an assistant professor of pediatrics and emergency medicine at the University of Pittsburgh School of Medicine. "The findings underscore the need for more evaluation into why and how to reverse these trends so that we can minimize the incidence of traumatic brain injury and the consequences associated with these injuries." (May 13, 2014)
According to the CDC, TBI is associated with a significant number of deaths and of people suffering from permanent disability each year, In fact, in 2010, alone, 2.5 million TBIs were seen as both individual injuries or in collaboration with other injuries. TBIs typically occur following some type of bump or blow to the head or from a penetrating head injury. A TBI, which can be mild to severe, range from minor changes in consciousness or mental status to a long period of unconsciousness or amnesia.
"Traumatic brain injuries, because they are often accidental in nature, may occur due to the actions of another party. Often, TBIs lead to very significant and costly injuries and may sometimes lead to death," said Gary Falkowitz, Managing Attorney at Parker Waichman LLP. "Parker Waichman continues to review cases involving TBI and offers free lawsuit consultations to victims, and the families of victims, of TBI."
If you or a loved one experienced complications following a TBI, please visit the Firm's Traumatic Brain Injury page. Free case evaluations are also available by calling 1-800-LAW-INFO.