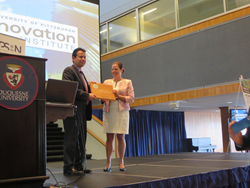 "I've heard that cima means peak of the mountain in Spanish, I believe this award testifies Cano indeed has reached that peak." ~Kevin White, SBA Pittsburgh Acting District Director
Pittsburgh, PA (PRWEB) June 09, 2014
Nelson Cano, CEO, Cima Software Corporation was honored at Duquesne University's annual Entrepreneur's Growth Conference as he received his award for U.S. Small Business Administration (SBA) Pittsburgh District Small Business Administration Exporter of the year.
Natalia Olson-Urtecho, SBA regional administrator of the Mid-Atlantic office, presented Cano, alumni of Duquesne University, with the Exporter of the year award on June 5. In an interview with the SBA, Cano stated," I feel very proud and didn't expect this award."
In 2003, Cano was part of a trio who sought to design, code, and implement a document and content management software program to assist human resource and financial departments in optimizing their business processes. Since then, Cano has fine-tuned his product, but through consulting companies has sold his software to some of the largest and most recognizable corporations in the world: Coca-Cola, Kellogg's, Chevron, and Emerson.
Originally, from Lima Peru, Cano came to Pittsburgh to join extended family members and to enroll in Duquesne University's International Program, earning a graduate assistant scholarship in the finance department. He then earned both an MBA and a master's degree in management information systems.
According to SBA Pittsburgh Acting District Director Kevin White, Cano illustrates how exporting can help Pittsburgh-based companies grow. "His education and business acumen became the catalyst for him to create a software package that really is needed by companies throughout the world. His Latin American roots helped him successfully export to that sector of the global economy," White stated. "I've heard that Cima means peak of the mountain in Spanish, I believe this award testifies Cano indeed has reached that peak."