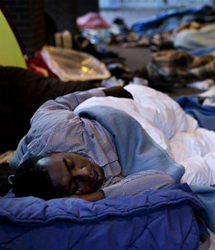 There was a serious risk of irreparable harm if this man was removed. The Tribunal took the correct decision and we now await the decision of the Upper Tribunal in relation to Country Guidance on returns to Mogadishu.
London, United Kingdom (PRWEB UK) 5 June 2014
Legal 500 recommended Duncan Lewis Immigration Solicitors prevented the deportation of a 23-year-old Somali asylum seeker identified only as "Abdullah" after the Judge granted a last minute injunction preventing his removal.*
Duncan Lewis Immigration Solicitors successfully argued that a decision on Abdullah's future, who was due to be flown back to his native Mogadishu on 3rd June 2014, should "await the imminent findings of an immigration upper-tribunal" The Independent reported on 3rd June.**
Duncan Lewis Public Law Director Toufique Hossain, who is representing Abdullah stated to the Independent: "The Law has not changed whatever the Secretary of State chooses to say in the country guidance, because that is up to the upper tribunal to decide and there should not be attempts to remove people until then".**
Though Abdullah was reprieved, his solicitors told the Independent that "(they) still fear he could be removed within days or weeks depending on the findings of the tribunal".**
Speaking on Monday to The Independent from the Harmondsworth detention centre, Abdullah said: "I do not have words to describe it. I am overwhelmed with fear. It is a place that I escaped from and I came to this country hoping my life would be changed for the better."**
The Independent stated that "in January, Abdullah was forcibly put on board a flight to Istanbul en route for Mogadishu but a last-minute legal challenge meant he was brought back to the UK. He has spent the past months on bail under curfew wearing an electronic tag until he was taken back into detention."**
Abdullah further told the Independent that he had been ""handcuffed… assaulted, punched and dragged" by escorts in front of other passengers who heard him screaming for help" during the course of his removal.**
He told the Independent that his message for the Government was straightforward; "Britons might have shed their blood in multiple continents in protection of human rights but it seems that human rights [are being] violated here at home,".**
The Home Office issued new advice considering asylum appeals from Somalis in April 2014. This stated that the UK Government still acknowledges that "Somalia remains too dangerous to return people to areas outside the capital, but says the general situation has improved since the overt withdrawal of the Islamist terror group al-Shabaab in 2011".**
The Independent states that, "Al-Shabaab, which was responsible for the assault in February on the presidential palace in which a government official died, has warned that individuals returning from the West would be targeted as infidels."**
Abdullah described to the Independent how he was a member of a minority clan and that his father, a university professor, had been shot and injured and many members of his family killed.**
According to Home Office there were 33 enforced returns to Somalia in 2013. In the first quarter of 2014, 19 people were sent back, though the figures do not show how many were returned to Mogadishu where the violence is worst.**
Toufique Hossain, Public Law Director and Solicitor for Abdullah stated;
"There was a serious risk of irreparable harm if this man was removed. The Tribunal took the correct decision and we now await the decision of the Upper Tribunal in relation to Country Guidance on returns to Mogadishu. It is quite wrong that the Home Secretary is trying and, we understand in some cases, succeeding in removing people to Mogadishu."
*The Queen on the application of Yusuf versus Secretary of State for the Home Department Upper Tribunal Ref: JR/7088/2014
**The Independant: "Judge prevents Theresa May sending asylum-seeker back to lawless Somalia"- 03/02/2014- available here.
About Duncan Lewis
Duncan Lewis, established in 1998, is the largest civil legal aid practice in the UK and one of the country's fastest growing firms of solicitors, serving both corporate entities and private individuals from offices across London and throughout the UK. A recommended leading law firm by Law Society Lexcel, Legal 500; Duncan Lewis employs over 500 members of staff and was the first law firm to achieve the Investors in People Gold Quality Standard Mark in 2009. Representing over 25,000 clients per year, the company has an excellent reputation in the Administrative Court, High Court and Court of Appeal in the Immigration, Public law and Family/Child Care jurisdictions.
Established areas of law are: business immigration, child care, civil liberties, clinical negligence, community care, crime and fraud, dispute resolution, debt and insolvency, employment, family and divorce, housing, asylum and immigration, litigation, mental health, personal injury, prison law, professional negligence, public law and administrative law, regulatory matters and welfare benefits.