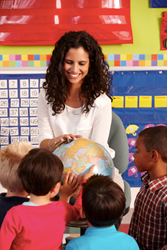 Chicago, IL (PRWEB) July 08, 2014
Many parents and educators are aware of the academic, linguistic and cultural benefits of foreign language learning between birth and adolescence, focusing on the window of opportunity when children learn naturally and easily – yet elementary schools across the country have been eliminating foreign language programs for several years due to outside factors including budget cuts and a lack of qualified teachers. This school year, Language Stars, the national leader in early childhood foreign language education with locations throughout the Chicago and Washington DC areas, celebrates its 15th year providing in-school language instruction with their Language Stars at School program. The program helps create a more affordable way for schools to offer effective language learning techniques for children from pre-K through 8th grade.
Language Stars' unique brand of full immersion play-based language called FunImmersion, taught exclusively by native speaking teachers from around the globe, offers both in curriculum and after school program options for pre-k, elementary and middle schools. Language Stars continues to expand their in-school programs in the Chicago and WashingtonDC area at the request of parents, elementary and preschool directors, and principals who are otherwise unable to provide foreign language instruction to their children.
"The cost of starting a Foreign Language in Elementary School (FLES) program in one school can cost up to $450,000 per school," said Elise Boutcher, National At School Director, Language Stars. "A Language Stars at School program can come in at 75-80% less than that for a full academic year with multiple native speaking teachers for multiple language programs. This opens the door for schools in our area to provide curriculum for their students they thought impossible, and our hope is that even more parents and educators who recognize the importance of younger language learning will turn to us to outsource their language instruction in the face of funding challenges."
According to the Center for Applied Linguistics, the number of U.S. public elementary schools teaching foreign languages fell from 24% to just 15% between 1997 and 2008. Middle school foreign language instruction declined from 75% to 58% over the same time period. Yet studies have shown that being bilingual can pay many dividends, from sharpening memory and cognitive abilities to enabling better multitasking, promoting cross-cultural understanding, and opening the door to higher-paying jobs. In addition, communicating in more than one language is considered increasingly important in a world where business is done globally. For these reasons, it's important to start the education process before high school, when a child is more receptive to learning and retaining a second language.
"Research shows that younger children can wrap their brains and tongues around a new language far more easily than in junior high or high school when most foreign language instruction begins," said Leslie Lancry, Founder of Language Stars. "It is simply easier to reproduce native accents and become fluent if you start early. Our programs continue to grow due to the increased need, and preschools, elementary and middle schools come to us because they're looking for a way to offer effective language programming at a younger age -- and that's our specialty. We make language learning fun, and that makes all the difference."
Language Stars at School offers language education before, during and/or after school and in some cases over the summer. Classes include a mix of games, music and other activities all conducted in a full immersion classroom environment. The Language Stars teachers are trained to use the company's signature blend of high-energy presentation, and take-home activity sheets help reinforce what children learned in school.
About Language Stars
Language Stars, the national leader in early childhood foreign language education, teaches full immersion play based language classes for kids focusing on the window of opportunity between birth and adolescence when a child's brain is hardwired to learn any language naturally and easily. Language Stars has 22 locations in the Chicago and Washington DC metropolitan areas and is in over 150 public and private schools, including preschools, elementary schools and middle schools. Language Stars currently reaches over 10,000 toddlers, pre-schoolers, and elementary students each week, helping them move toward proficiency in a foreign language, build cognitive skills and become sensitive to new cultures.
Learn more about Language Stars At School.
###