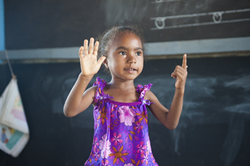 "Our Nations cannot thrive without educated workforces."
Washington, D.C. (PRWEB) June 05, 2014
The Prime Minister of Denmark Helle Thorning-Schmidt, Prime Minister of Norway Erna Solberg, President of the European Commission José Manuel Barroso and the European Union Commissioner for Development Andris Piebalgs joined Julia Gillard, Chair of the Global Partnership for Education and former Prime Minister of Australia, in calling for a greater commitment to global financing for education, particularly for girls.
In an Open Letter, the leaders write: "It is not acceptable that global aid for education is falling when the benefits are indisputable and the needs are so clear. Simply filling the growing gap is not enough; we need to ensure that funds continue to flow to improve access and quality education for all."
More than half of the 57 million children worldwide who are not in school are girls. A further 250 million children drop out of school or are unable to perform basic literacy and numeracy tasks by the time they reach grade four. Girls are more likely than boys to drop out, and girls from poor families in rural areas are least likely to have access to education. Some face overt discrimination and even violence, as the recent kidnappings in Nigeria and the attacks on Pakistani Malala Yousafzai so clearly show.
The benefits of education to health, economic development and stability are clear, yet aid funding for education has fallen by an average of five percent each year since 2010.
On June 26, 2014, some 500 global education leaders, education ministers, experts and representatives of donor, NGO, multilateral organizations and the private sector will have an opportunity to address the dip in global education financing when they meet in Brussels at the Global Partnership for Education Second Replenishment Conference.
The funding target for the four-year period 2015 to 2018 is US$3.5 billion, which will ensure that the annual school costs of 29 million children in 66 low-income countries worldwide can be met.