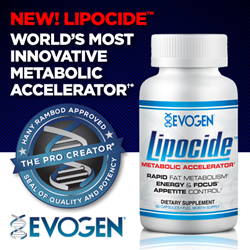 Rambod said, "It took me over 2 years of testing and hundreds of versions to find the proper balance of energy, heat, mood elevation and focus. Lipocide has all those qualities without jitters, shakes or nausea that is associated with most 'fat burners.'
Campbell, CA (PRWEB) June 05, 2014
Evogen Nutrition has officially announced the launch of Lipocide™ metabolic accelerator. Lipocide is Evogen's first ever thermogenic product after years of research and development from the company's founder, Hany Rambod. Known among bodybuilding circles as 'The Pro Creator,' Hany has trained some of the world's best athletes including numerous Olympia champions. He takes a hands-on approach when formulating all Evogen products while having the patience and attention to detail to ensure that it will provide consumers with quality results. Lipocide is designed to give users a smooth balance of energy without the crash, while helping them reach their lean body mass goals.
Rambod said, "It took me over two years of testing and hundreds of versions to find the proper balance of energy, heat, mood elevation and focus. Lipocide has all those qualities without jitters, shakes or nausea that is associated with most 'fat burners.' I'm very proud of the Lipocide formula, prepare for clean energy with no crash."
One bottle of Lipocide contains 60 capsules, which at minimum is a one-month supply. It will be available on http://shop.evogennutrition.com, Bodybuilding.com, GNC.com, along with many other supplement retailers. For more information on Evogen Nutrition, follow them on Facebook and Twitter.
About Evogen
Evogen Nutrition is headquartered in Campbell, CA and is a rapidly expanding, healthy lifestyle sports nutrition company that develops and distributes an innovative line of nutritional supplements. Founded and lead by world class trainer Hany Rambod, Evogen's propriety products address all categories of an active lifestyle including muscle building, weight loss, and general fitness through a daily nutritional supplement regimen. The foundation of Evogen's nutritional protocols are based on the world famous FST-7 physique training system invented by Rambod. Evogen Nutrition is sold in over 25 countries, including Bodybuilding.com, GNC.com, and distributed by Europa Sports. For more information, please visit http://www.EvogenNutrition.com.