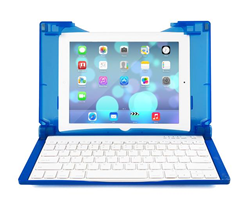 If Apple were to make its Wireless Keyboard a bit thinner at the back, add a full complement of iOS special-function keys, and toss in a splash of color, you'd get the InNuevo Keyboard.
Washington, D.C. (PRWEB) June 06, 2014
inNuevo, a D.C. based product design company founded by architects, is offering its Macworld-endorsed products for 20% off this Father's Day. inNuevo's all-in-one tablet docking station, DOCKr and Wireless Keyboard, is the top electronic pick for dads, and on sale with free shipping until June 15th.
The DOCKr is a flexible all-in-one iPad accessory that offers the advantages of the laptop with the utility of the iPad. A short promotional video showcases the product and its many features.
The DOCKr includes:
**Docking Station with Flexible Viewing (horizontal and vertical viewing, 140 degrees of angles, slides forwards and backwards)
**Wireless Speakers (Bluetooth connectivity)
**Battery (up to 6-8 hours of charging capabilities to any USB-compatible electronic device)
**Compatibility with inNuevo Keyboard (also fits the Apple Wireless Keyboard)
**Style and Color (5 colors options for the DOCKr and the inNuevo Keyboard, customization possibilities)
**Folds into a Protective Carrying Case (durable and lightweight polycarbonate plastic)
The DOCKr is compatible with Apple iPad 1, 2, 3, and 4 and adjusted clips can also accommodate the Samsung Galaxy 10.1 tablet series including the Note, Pro, and Tab 3. The DOCKr also fits the Apple Wireless Keyboard. Normally sold at $114.95 without the keyboard, or $149.95 with keyboard, the DOCKr will be sold for $91.96 and $119.96 respectively with free shipping until Father's Day with promo code DadRocks.
The inNuevo Keyboard comes in five colors and provides a seamless and easy typing experience. The keyboard is standard size, lightweight, comfortable and efficient with over 10 shortcut keys, including iOS special function keys, like a Spotlight-search key that works in iOS 7. It is only 11 ounces and travel friendly. Normally sold at $59.95, the inNuevo Keyboard is now offered at 20% off, or $47.96 with free shipping until Father's Day.
"We are excited to offer our award-winning products to dads at a discount for Father's Day," said Paola Moya, CEO of inNuevo. "Our team is comprised of a few dads and we are grateful for all they do."
###
inNuevo is a product design firm based in Washington, DC. The firm produces cutting-edge, uniquely designed products to accommodate and improve customers' everyday activities through elegant design solutions. The company was founded in 2011 by two well-established architects and designers, Michael Marshall and Paola Moya. inNuevo is the sister company of architecture firm, Marshall Moya Design. http://www.innuevo.com