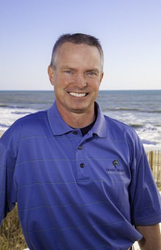 Outer Banks, NC (PRWEB) June 06, 2014
The Home and Garden channel is once again featuring the Outer Banks as a location for one of its popular programs, "Beachfront Bargain Hunt." For four days, beginning May 17th, a film crew for the show captured a family's search for a beach home that would fit their needs and budget. Jason and Mary Mudryk, of Raleigh, N.C., were looking for a vacation home to enjoy with their three young sons. They wanted a home that was near the ocean with a price tag of $350,000 or less. The couple brought their search to South Nags Head, where Jason vacationed with his family when he was a child.
With the help of Randy Nance, senior associate broker for Village Realty, the Mudryks considered four homes, which were located on Altoona St. and Pelican St. in South Nags Head. "Their preference was a minimum four-bedroom, two-bath property, close to the beach with nice ocean views," explained Nance. He added, "Nothing that needed major renovations, but had a spacious interior for entertaining family and friends." The family had to weigh their options among the houses by prioritizing variables such as space, amenities, and proximity to the ocean. In the end, they were able to select a house within their price range that fit their lifestyle and are now the proud owners of a beautiful beach house.
The broadcast date for this episode has yet to be confirmed, but it is projected to be aired sometime around late summer or early fall. New episodes of "Beachfront Bargain Hunt" can be seen Sunday nights at 9 p.m. Eastern on HGTV.
Village Realty's commitment to superior customer service has served homeowners and vacationers on the Outer Banks for over twenty years. Licensed NC Real Estate Brokers are always on duty at their two full-service real estate offices in Nags Head and Corolla, the locally owned company also manages over 600 vacation rental homes from Corolla to South Nags Head.
For more information visit http://www.VillageRealtyOBX.com or call 855.397.2430.