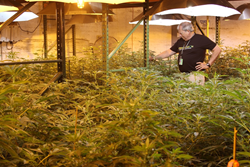 We're going to be the only true locally owned and locally organically grown outlet in the valley
Glenwood Springs, CO (PRWEB) June 18, 2014
For months, Ron Radtke looked for the perfect space to build an expanded marijuana grow facility to cater to his many medical, recreational customers and tourists in the Roaring Fork Valley.
He found the answer in his own backyard.
Radtke turned to Glenwood Springs and found what he considers a perfect fit for his planned operations in the 26,000 square foot former Coors warehouse on Devereux Road, located on the banks of the Colorado River.
The warehouse has the size, power capabilities and location that fits perfectly into Radtke's plans to develop the largest grow and retail operation on the western slope of Colorado. Radtke can now fully develop his 70-plus strains of marijuana to supply his current medical patients and recreational customers.
"We're feeling a lot better where we're at now than six months ago," Radtke said. "We're going to be the only true locally owned and locally organically grown outlet in the valley."
The retail shop is now open for business in Glenwood Springs for both medical and recreational customers.
What customers will see at Green Dragon Colorado is the retail shop located next to the huge grow facility. The round building is separated into two independent shopping counters with one dedicated to medical patients and the other supplied with recreational product.
The shop is spacious, well lit and filled with plenty of product in jars lining several walls. Besides the flower itself, there are also edibles, smoking paraphernalia, clothing and vaporizing products available.
Radtke's crew took control of the warehouse in January and has used the past four months to plan and set up lighting, monitor the moisture levels, design the specific growing areas and set up space for supplies and equipment.
Jeff Kennedy, general manager, keeps a watchful eye on the grow facility as it comes to life. With more than 70 strains of marijuana already growing, Kennedy says it's important to offer a variety of products.
"Our goal isn't just to have a product that's 20-percent plus THC," Kennedy said. "We want to offer choices to our customers. There are so many other components to a plant that's beneficial or desirable to our customers other then just the THC count."
Radtke's son, Brian, came up with an idea to add another 20,000 square feet of flowering space by putting in rows of shelving about eight feet off the ground that nearly doubles the grow area to 46,000 sq. ft.
The "Green Growing and Environmentally Friendly" room in the grow house is dedicated as a 3,800 sq. ft. grow area, using only natural sunlight from June through October. A special composite material was installed on the roof to expand and increase growth production.
There's an additional 8,000 square foot space outside of the grow house that Radtke plans to develop as a greenhouse grow area, and have it completed before the end of summer. And yet another hidden flat area of 16,000 sq. ft. exists under a simple roof. It too will be developed which will complete the grow house area of between 60,000 to 70,000 sq. ft.
Green Dragon sprays their plants with natural rosemary and citrus oils to control any potential pest outbreak. They also use food-grade products as fertilizer, meaning a person can eat or drink them.
To maintain the highest of standards, all product that comes out of the warehouse will be sent to independent testing centers to check for contaminants, molds, pesticides and other foreign substances. "They'll be testing our products like something you would buy at a grocery store," Kennedy said.
There are nearly 200 video surveillance cameras installed that will eventually be displayed on four 40-inch monitors.
"We're really blessed to have this facility," Radtke said. "We're the first cannabis company that's been accepted into the Glenwood Springs Chamber of Commerce and to be one of the sponsors of the 2014 Colorado-Snowmass HOG-Harley Davidson Rally, held June 26 – 29. You'll see our ad in this summer Chambers Guide when it comes out. We're vested in the overall economic health of Glenwood Springs and the responsible cultivation and consumption of cannabis. We're proud of our new facility and our shop in Aspen. The Roaring Fork Valley is a great place to do business and it's our home as well."