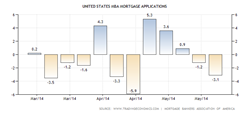 refinance activity decrease -3%
Chicago, IL (PRWEB) June 05, 2014
Mortgage applications for the week ending on May 30th disappointed the housing market this morning. However, lenders like Peoples Home Equity still expect weekly home sales and prices to continue higher.
The Mortgage Bankers Association (MBA) released its weekly mortgage applications report on Wednesday, June 4th which showed a disappointing week-over-week decline of -3.1%. The announcement of reminiscent of the dismal declines seen over the winter season; however, lenders expect resurgence in demand in the following weeks. Overall the past 4 weeks , the net percentage of applications was up 8.6%, after Wednesday's announcement it's only up net 0.2%.
In terms of the share of applications, refinance activity decreased -3% while "the seasonally adjusted Purchase Index decreased 4 percent from one week earlier." This unadjusted purchase index was also "17 percent lower than the same week one year ago." This type of news fuels concerns that the housing market is not as strong as last year, but Peoples Home Equity reminds readers that according to the latest Dqnews.com "National Home Sales Snapshot" property sales are increases just as fast this year as last.
In terms of mortgage rates, last week saw the "lowest levels in close to a year" with the rate on a 30-year fixed mortgage declining to 4.26% from 4.31% and 4.22% from 4.23% for Jumbo loans. The rate on an FHA loan managed to dip down to 3.99% from 4.04% the week prior.
In next week's report, we may find that applications rose in the wake of ECB rate cut uncertainty this week. Some Americans may not be paying attention or be interested in the ECB's interest rate decision this Thursday, June 5th, however this decision will influence U.S mortgage rates.
If interested in securing a competitive, lower rate mortgage, consider speaking with a Peoples Home Equity loan officer today details at: 262-563-4026.