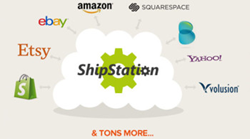 We are thrilled to participate in our industry's largest conference, and are excited to showcase some new features.- Robert Gilbreath - ShipStation's VP of Marketing
Austin, TX (PRWEB) June 09, 2014
ShipStation, the leading web-based e-commerce shipping solution, announces its participation in events and booth exhibits during the Internet Retailer Conference and Exhibition (IRCE) 2014, being held June 10–12 in Chicago, IL.
ShipStation will offer visitors to its booth (#1816) a sneak peak at some new features. The company will have representatives from Sales/Account Management, Support, Business Development, and Marketing at the booth ready to go through demos of new features and the existing platform, and meet with existing and potential customers and partners. In addition, ShipStation will be taking part in the following events:

Meet and greet at the ShipStation booth with John Lawson (ColderICE) on June 11 from 2:30 to 5:30. Lawson will also be signing his new book, "Kick Ass Social Commerce for E-Preneurs." Signed copies of his book are available as supplies last.
IRCE 10th Anniversary Party to take place on June 11 at the House of Blues, Chicago, from 7:30 to 10:30 p.m., sponsored by ShipStation partner Newgistics.
Stamps.com After Hours Cocktail Event at the Crimson Lounge, Hotel Sax in Chicago, taking place on June 11 from 10:30 p.m. to 1 a.m. (immediately following the IRCE 10th Anniversary Party and hosted by ShipStation)
Magento Mania – select Magento partners like ShipStation are taking part in this fun trade show event. Visitors to ShipStation's booth during the conference can sign up to win one of two $250 gift certificates to Whiteyboard.com - a ShipStation and Magento Enterprise customer.
ShipStation's Vice President of Marketing, Robert Gilbreath, says, "We are thrilled to participate in our industry's largest conference, and are excited to showcase some new features. The ShipStation conference team is looking forward to seeing old friends and making new ones."
About ShipStation
ShipStation is a leading web-based shipping software that is built to help online retailers organize and process their orders, while fulfilling and shipping them quickly and easily. With automatic order importing from over 40 shopping carts and marketplaces, including eBay, Amazon, Shopify, Bigcommerce, Volusion, Squarespace, Stich Labs, and more, and automation features like custom hierarchical rules and product profiles, ShipStation helps online retailers ship out their orders from wherever they sell, however they ship. For more information, visit http://www.shipstation.com.