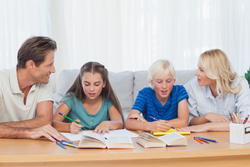 By learning and knowing the truth about drugs, a person can make the right decision not to use them. You can help your children, your family and your friends by sharing what you know about drugs, thus helping them to lead a drug-free life.
Canadian, Oklahoma (PRWEB) June 05, 2014
In today's world, children and teenagers deal with an almost constant stream of exposure to drugs. They hear about drugs on the playground, on the streets, in the movies, on the radio, in the news, on television, and even in the music they listen to.
It is in the teenage years a person is most likely to start using drugs. Unfortunately, drug use begun as a teenager leads to substance abuse problems as an adult.
With decades of experience in effective rehabilitation of addicts and drug prevention education, Narconon Arrowhead is offering advice to parents on things they can do to help prevent summer drug use by their sons and daughters.
Important Advice
The executives and staff of Narconon Arrowhead encourage open communication as a strong foundation for preventing drug experimentation and use. Years of delivering drug prevention education presentations to children and youth has demonstrated conclusively that once young people understand the basic facts of drugs—what they truly are and how using them adversely affects the mind and body—they are thus able to use judgment and make sound decisions when confronted with drugs and the opportunity to use them.
If you, as a parent, lack correct and factual information as to the truth about drugs and drug use, Narconon Arrowhead advises that you get properly informed so that you can share the vitally important and correct information with your children as to the dangers and consequences of drugs and drug use.
Additionally, Narconon Arrowhead provides the following advice to parents for preventing summer drug use.
Things Parents Can Do
Choose a good time to sit down with our children and talk with them about drugs. Explain to them what they are, what they can do to the mind and body, the health and wellbeing of a person, and how they can steal-away a person's future.
Tell your children and your teenagers you do not want them to do drugs.
Ensure that you are an active part of your children and teen's lives. Spend time with them, giving them your full attention, and letting them know you care about them.
Be aware of your children and your teenagers, knowing where they are, who they are with, and what they are doing. Doing so helps you protect them, and lessens the chances and opportunities for getting involved in drugs.
Ensure there are clearly set rules, and that they are enforced fairly. Life presents all of us with the necessity to follow agreed-upon rules and codes of conduct.
Set a good example for your children and teenagers. What you say and do is important, and they look to you for guidance in how to deal with the challenges of life and dealing with others.
Actually teach your children and teenagers how to refuse drugs. Practice different scenarios, how to deal with those situations effectively--and how to say no.
Keep your home safe for you, your children and your teens. Prescription medications and alcohol should be safely secured and not accessible. And do not have people in your house who are abusing drugs or alcohol.
Keeping Summer Safe and Fun
Narconon Arrowhead wants to remind parents that they are important and they are listened to. Let your children and your teenagers hear from you on the vital issue of drugs and drug use, and help them learn to experience, enjoy and appreciate a drug-free life.
Parents are welcome to contact Narconon Arrowhead for drug education materials or with any questions or assistance they may need. Please call toll free at 1-800-468-6933 or visit http://www.narcononarrowhead.org.