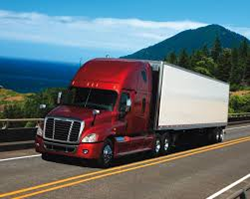 San Jose, California (PRWEB) June 04, 2014
England Van Lines have been steadily introducing new vehicle technology which will reduce the number of accidents, carbon emissions, and time spent driving. The internal computer processors which were recently integrated with the vehicles will soon be paired with stop-start software, and hardware capable of automatically turning a vehicle's engine on or off depending on the situation.
Currently, vehicles are already able to use high definition cameras to survey the surrounding environment and inform the driver how to best drive defensively in heavy traffic or during poor weather. The new technology will take advantage of wireless signals emitted by traffic lights in order to inform the driver of the exact speed that needs to be followed in order to avoid upcoming red lights. If the driver for some reason catches the red light anyway, then the engine will automatically shut down as soon as the driver makes a full stop. The engine will then automatically reactivate seconds before the light turns green.
A company spokesperson commented on the technology upgrades. "San Jose moving has come a long way, and we're always thinking about how to better our standing among top competitors. We believe this will help us reduce fuel expenditures and, more importantly, drastically reduce the amount of time our drivers need to spend on the road. During cross country trips, we should see enormous returns. These new technology investments will also positively impact the environment, and we're always wary of that as well."
Other movers in the region have yet to make the same technological advancements as England Van Lines. In fact, only 7% have made the jump to including computer processors in the vehicles. Of those who have, 73% have paired the technology with mobile phone applications, and 23% have upgraded to include stop-start technology. This should give England Van Lines a significant lead over competitors for the foreseeable future.
These San Jose movers will be releasing more details about moving fleet upgrades at their branch and others via the company website: http://EnglandVanLines.com/. In the future, additional measures are expected. Company officials haven't yet provided additional details on what they have in store for the community, but resource investments and acquisitions suggest major moving fleet overhauls in the coming months. For now, officials urge clients to take a look at their regularly updated blog, or view the gallery for videos.
William Alexander
England Van Lines
(888) 485-2201