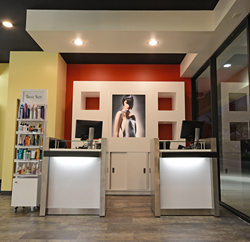 Only the best for clients of Yellow Strawberry!
(PRWEB) June 06, 2014
Yellow Strawberry Global Hair Salon, http://www.yellowstrawberryhair.com, is proud to announce the grand opening of its third salon, located at 5410 Fruitville Road in Sarasota, Florida, in the Target Shopping Center.
Owners Caroline Behan, Desmond Behan and Richard Weintraub have designed the salon with a modern, cutting-edge New York feel. As guests enter the salon, they will immediately notice the fabulous furniture that seems to instantly transport them to high-fashion France. Even the stylists who are truly artists skillfully implement French hair-cutting techniques to enhance natural beauty. Let's not forget to mention that top-of-the-line products like Kérastase are used to achieve a client's ideal look. Only the best for clients of Yellow Strawberry!
Of the new opening, Mrs. Behan stated that she is most excited about being able to offer another great location that provides quality services, careers and top-of-the-line training to hairdressers in their "New Talents" training program. The apprentices of this program provide hair services at a discounted price for the Yellow Strawberry's "Beauty on a Budget", occurring every Monday from 12 pm to 5 pm. In this program, licensed hairdressers learn how to perfect the skills and techniques that are needed to become a Yellow Strawberry Stylist.
In a typical week, you will find Yellow Strawberry open Tuesday through Thursday from 10am to 7pm and on Friday and Saturday from 9am to 5pm. Mondays are only open for "Beauty on a Budget". Not only does Yellow Strawberry provide hair treatments, cuts, extensions perms and the like, but they also provide Sarasota wedding hair and makeup services, along with services for other special occasions.
If you are looking for the best salon in Sarasota that lives up to its motto of "One Cut, Many Styles," contact the salon at (941) 377-6963, visit http://www.yellowstrawberryhair.com or follow Yellow Strawberry on Facebook.
About Yellow Strawberry
Yellow Strawberry Global Hair Salon is a hair and makeup salon based out of Sarasota, Florida. Since they were founded in 1994, Yellow Strawberry has continually set the area standard for customer service and hair and makeup design. This has led them to continually earn many "Best Hair Salon" honors and awards.