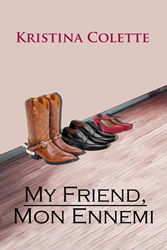 (PRWEB) June 05, 2014
Can two women who were once as close as sisters mend their relationship when the chips are down? My Friend, Mon Ennemi is a powerful novel that bridges both time and open wounds. This heartfelt story about friendship interrupted is also about love, choice, allegiance, and forgiveness.
The book begins when 35-year-old Annie is dealing with the most difficult circumstances of her life. The time has come to confront her ex-friend, Julia, because Julia desperately needs Annie's support. Shortly before having her baby, Julia was diagnosed with ovarian cancer. The women were once college roommates and the closest of friends, until Julia discovered a betrayal by Annie that destroyed their friendship.
It has been over a dozen years since Julia stormed from the apartment she shared with Annie, but now she needs Annie's help. Julia lives in France with her husband, Phillip, who issued a plea to Annie, someone he has never met. Julia needs her old friend now, despite the barriers she created between them. A hole has always remained in Annie's life where her friendship with Julia once existed. Can their differences finally be mended?
MY FRIEND, MON ENNEMI (ISBN: 978-1-62857-020-5) is now available for $17.95 and can be ordered through the publisher's website:
http://sbprabooks.com/KristinaColette or at http://www.amazon.com or http://www.barnesandnoble.com.
WHOLESALERS: This book is distributed by Ingram Books and other wholesale distributors. Contact your representative with the ISBN for purchase. Wholesale purchase for retailers, universities, libraries, and other organizations is also available through the publisher; please email bookorder(at)aeg-online-store(dot)com.
About the Author: Kristina Colette has taught in public school and was a university professor for 14 years. She lives with her husband, children, and Great Dane near Salt Lake City and on Whidbey Island, Washington. She has been in talks with Warner Bros. about movie rights.
Author's website: http://www.kristinacolettebooks.com
Strategic Book Publishing and Rights Co, LLC