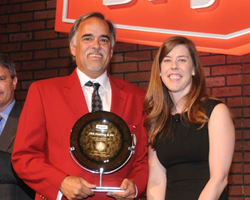 In addition to being a Bryant factory authorized dealer, JBS is also dedicated to operating with the highest ethical standards and they work constantly to uphold sales, business and customer service quality.
San Bernardino, CA (PRWEB) June 25, 2014
JBS Heating and Air has just been awarded the 2014 Bryant Medal of Excellence (MOE) by Indianapolis-based Bryant Heating and Cooling Systems. Bryant, a manufacturer of home heating and cooling systems since 1904, presents the award annually to Bryant Factory Authorized Dealers who meet the company's strict standards for unwavering commitment to customer satisfaction while providing consumers with high quality products and services. JBS met all of Bryant's high service standards for their customers' heating and cooling systems as well as good business practices. Because of hard work and diligence, JBS was one of only 15 regional MOE winners across the United States and Canada, and the only winner among all of the California Bryant dealers.
"Bryant has a long history of providing customers with reliable, worry-free comfort," said Alissa Barnard, marketing manager, Bryant. "We couldn't achieve success without our dealers, who have embraced the Whatever It Takes(sm) philosophy to market, sell, install and ensure our heating and cooling products are running at an optimal level. We're proud to honor JBS Heating & Air with our 2014 Medal of Excellence award."
In addition to being a Bryant factory authorized dealer, JBS is also dedicated to operating with the highest ethical standards and they work constantly to uphold sales, business and customer service quality. The company holds certifications from: North American Technician Excellence (NATE), Air Conditioning Contractor's Association of America (ACCA), National Comfort Institute (NCI), and holds an A+ rating from the Better Business Bureau.
NATE is an organization that trains technicians for certification through rigorous testing, with the goal of improving and maintaining the quality of technicians in the HVAC industry. ACCA sets ethical standards to which its members adhere to ensure quality customer service. The National Comfort Institute trains contractors in innovative methods for installing system so they provide the safest and most comfort possible for customers. The Better Business Bureau is a system for its members to help solve problems with customers and to provide consumer education.
Joaquin Contreras established JBS Heating and Air over 10 years ago, but began as a HVAC service technician almost 30 years ago. He supplemented his on-the-job experience with education at College of the Desert. Contreras later served as a member of its Air Conditioning and Refrigeration Technical Advisory Committee. He currently serves as a member of the WHPA (Western HVAC Performance Alliance) Residential subcommittee staying on the front line of energy savings strategies that impact the overall effectiveness of Code compliance and IOU rebates thru the California Energy Commission. His business activities have included new construction, custom homes and commercial buildings. He has also advised HVAC companies on all aspects of the business including management of service departments, proper system design and commissioning of residential and light commercial systems.
JBS Heating and Air Inc is one of only a handful of HVAC service companies in So Cal working with So Cal Edison on both its Residential Quality Installation Program, Commercial Renovation program, and the commercial Early Retirement program affording customers rebates from $600.00 to $4000.00 on select commercial and residential equipment.
Contreras heads the company's executive management team, which includes Tom Babnick, chief financial officer, Seth Ferguson General Manager RNC, Casey Contreras Service Manager, and Kimberly Sico, operations manager.
Tom Babnick has been JBS chief financial officer since 2006 and manages the company's accounting and finances. His varied financial experience includes directing Disneyland's financial planning. His formal education includes a BA and MBA from CSU, Fullerton.
Seth Ferguson has over 16 years experience from ground up in the Plumbing & Mechanical field and has taken on the role of General Manager of Residential New Construction RNC for JBS.
Casey Contreras Service manager hold certifications from NATE in Service, installation of both Gas and Heat pump systems along with Residential, Commercial Air Balance, System Performance and System Analyst from the National Comfort Institute.
Kimberly Sico has been operations manager of JBS since 2006. Her work with the company includes contact with superintendents, coordinating options, administering contracts, purchasing. Ms. Sico has a BS from California Baptist University.