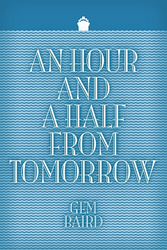 (PRWEB) June 05, 2014
Lynn Abbott is a recent widow struggling to find a place for herself after she is unexpectedly left on her own for the first time. Rodney Hamilton is a widower travelling to various East Asian ports to wind up some work projects before retiring. Sayud, a young idealistic room steward, is intent on finding ways to rebuild his devastated homeland.
Unexpected adventure envelops these three characters, opening up a new understanding about helping others in need, and in turn, finding that by doing so they get back much more than they could ever give, or have expected. Set sail on a very special and ageless romance in "An Hour and a Half from Tomorrow".
AN HOUR AND A HALF FROM TOMORROW (ISBN: 978-1-61897-670-3) is now available for $12.50 and can be ordered through the publisher's website:
http://sbpra.com/GemBaird or at www(dot)amazon(dot)com or www(dot)barnesandnoble(dot)com.
WHOLESALERS: This book is distributed by Ingram Books and other wholesale distributors. Contact your representative with the ISBN for purchase. Wholesale purchase for retailers, universities, libraries, and other organizations is also available through the publisher; please email bookorder(at)aeg-online-store(dot)com.
About the Author: Gem Baird's first book "took root" forty years ago, but began to really "sprout" three years ago, blossoming this year as a completed story.
Strategic Book Publishing and Rights Co, LLC