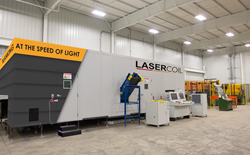 Stampers and fabricators faced with production challenges can turn to LaserCoil to help them meet delivery deadlines. We can quickly set up the system to run a variety of materials, thicknesses, sizes or shapes.
Perrysburg, Ohio (PRWEB) June 05, 2014
LaserCoil Technologies LLC, specializing in advanced technologies for laser cutting blanks from coil, has announced its ability to handle emergency blanking orders for companies facing production challenges. As the LaserCoil system eliminates dependence on traditional press dies, setup for new components simply requires software programming and the same part can be cut from a wide range of different coil widths and materials. Programming for basic parts such as hoods and roofs takes about two hours while more complex pieces can require a full day.
"Stampers and fabricators confronted with production challenges due to broken dies, unplanned equipment downtime, late die delivery, material shortages or other issues can turn to LaserCoil to help them meet deadlines," said LaserCoil President Kim Beck. "We can quickly set up the system to run a variety of materials, thicknesses, sizes or shapes -- including complex curvilinear profiles – to help companies out of a tough spot."
Recently, LaserCoil helped a stamper that was unable to procure the right-size material to run through its press within the specified delivery. LaserCoil was able to produce the part by using an available narrower width coil and running the part lengthwise through its laser blanking system with all pilot program pieces deemed acceptable.
On short notice, the patented LaserCoil system can process up to 20,000 pieces/run from aluminum, mild steel, advanced high-strength steels (AHSS) or other coil materials, producing surface sensitive panels as well as structural components in thicknesses from 0.5 to 3.5mm (0.02" – 0.14") and up to 2.0m wide coil at any length. The LaserCoil fiber laser and proprietary optics process achieves near-zero dross with a minimal heat-affected zone. This provides consistent edge quality to deliver components that are laser welding-ready, eliminating the need for a reshearing process. This cleaner edge also leads to improved formability.
Interested companies should contact Jay Finn at 419-591-7012 or visit http://www.lasercoil.com.