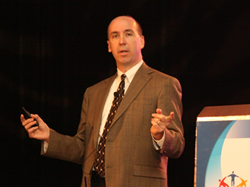 I am wildly optimistic about the future. The Internet of Things is going to transform life as we know it, and I want to help people be prepared for it.
Chicago, IL (PRWEB) June 05, 2014
So what is the big deal over the Internet of Things? Futurist Jack Uldrich is crossing the U.S. answering that question with his keynote address, "How the Internet of Things will Transform your Business." He is delivering the address at a series of Verizon Wireless Connected Technology Tours and the next stop is in Chicago on June 5th. He will also deliver it it in Columbus, Minneapolis and Detroit respectively throughout the month of June.
Uldrich says, "The underlying theory of the Inertnet of Things (IoT) is that when an object is capable of replicating itself digitally, it can be controlled from virtually anywhere. Currently the IoT is connecting a plethora of new places and things, for example: energy grids, schools, hospitals, and transportation systems, just to mention a few, to the Internet. So what does this mean? It means this massive amount of connectivity will provide more information, from more people and places, in more innovative and easily accessible ways. In essence, the IoT is going to increase efficiency across all sectors of private and corporate life by at least a hundred thousand fold in the years to come."
Speaking on a variety of topics including leadership, change management, unlearning and future trends--Uldrich caters to a wide variety of industries including agriculture, utilities, health care and finance all over the world. His clients include Lockheed Martin, USAA, the Urban Land Institute, among others.
Parties interested in learning more about Jack Uldrich, his books, his daily blog or his speaking availability are encouraged to visit his website at: http://www.jumpthecurve.net. Media wishing to know more about the event or interviewing Jack can contact Amy Tomczyk at (651) 343.0660.