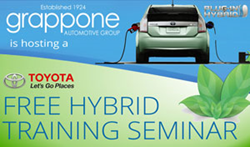 Bow, New Hampshire (PRWEB) June 10, 2014
The Grappone Automotive Group will hold a hybrid clinic on Thursday, June 26th at their LEED certified Toyota facility on Bow. The event is being put on for their wholesale parts clients, collision centers and mechanical shops. At this seminar participants will experience an introduction to the fundamentals of repairing and upkeep of Toyota Hybrids. Topics such as what to look for in regards to proper safe maintenance and upkeep of Hybrids will be discussed throughout the evening's event. An in-depth overview of all engine components, systems, and collision repair processes will be discussed. Another discussion point during the event will be on the value of Toyota manufactured products. Grappone Toyota will be assisted by Toyota field technical specialists who will come and help out at the event.
The main purpose of the event is to help educate Grappone Toyota's wholesale parts clients, collision centers, mechanical shops and other accounts better understand the hybrid system, what they can do and what they cannot do while working on the vehicle.
Though Hybrids get better fuel economy than conventional vehicles, they also present some unique hazards when they are involved in an accident or when they have to be serviced or repaired. With more and more Hybrids on the roads now, than there were ten years ago, it is important to know the in's and out's of working on Hybrids as well as assisting someone who has been in an accident with a Hybrid vehicle. Hybrids pose an immense danger to a mechanic's health when working on the car due to the high voltages that help run the car.
The benefits of driving Hybrids are significant; the miles per gallon of Hybrids are more than most gas powered vehicles, with less of a negative impact on our environment. Less emission, less gas consumption, less oil consumption and less maintenance costs are among the many perks associated with Hybrid cars. Grappone Automotive Group knows what it's like to make a change to help better the environment we live in. Grappone Automotive Group's Toyota dealership recently became a LEED(Leadership in Energy and Environmental Design) certified building. LEED Certification requires buildings to meet extremely high sustainable standards across six different categories spanning from water efficiency and environmental quality to innovation and design.
The Hybrid training event will be held on Thursday, June 26th from 4:30pm to 7:30pm. Dinner will be served from 4:30 to 5:30 and presentations will be conducted from 5:30 to 7:30. There will also be various giveaways and raffle prizes for the attendees to win throughout the night.
Grappone Automotive Group is a family owned business, located in Bow, New Hampshire. The Grappone Automotive Group recognizes the importance of involving the community. It is their mission to build lifelong relationships with their team members, guests and the community by serving with integrity, kindness and respect. Events like this are part of the many ways in which The Grappone Automotive Group connects to and builds strong relationships with the community they are a part of.