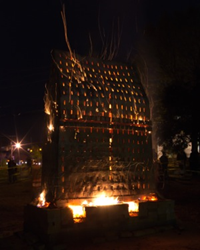 The entire project is steeped in suspense.
Düsseldorf, Germany (PRWEB) June 05, 2014
Every stage in the construction of Nina Hole's fire sculptures is intense, complicated and risky – and over a period of several days visitors can observe every step while nobody, including the artist and her team, has certainty about the project's completion. Such is the unique working style of the 70-year old Danish artist, and from June 6-28, she will attempt to build her 24th giant fire sculpture, a live art project called "The Creative Power of Fire," at Düsseldorf's Quadriennale, the fine arts festival that takes place every 4 years.
Hole will attempt to build her sculpture – a giant house of clay – on Düsseldorf's Rhine Meadows right on the Rhine River during three weeks of hard physical labor by a team of 8 ceramists. After laying a foundation of fireproof bricks, the team will shape individual clay stones and build a clay house with them. The event's high point is a fire that will bake the clay house in an insulating shell for three days using materials developed for aerospace. During the final stage of the fire, probably close to sunrise, the shell will be removed so the entire house can burn freely while sawdust is thrown at the sculpture, changing its surface in the process.
Although this will be Hole's 24th fire sculpture, the entire project is steeped in suspense about its outcome and success as many unpredictable variables come into play, such as the quality of the clay, the foundation, weather, and last but not least the artist's fitness. But to Nina Hole, the spectators' fascination along the way makes the attempt worthwhile. "The only thing I can guarantee is that there will be a huge fire," says Hole.
For a full program of Quadriennale Düsseldorf 2014, visit http://quadriennale-duesseldorf.de/?lg=en or download the bilingual program at http://quadriennale-duesseldorf.de/upload/Q14/Diverse/Quadriennale_Duesseldorf_2014_Programmheft.pdf.
The city's tourism office is offering hotel and city specials for Quadriennale Düsseldorf 2014. The travel package called "Quadriennale 2014" can be booked right from the tourism office's website at http://www.duesseldorf-tourismus.de/en/accommodation/hotel-packages/hotel-package-quadriennale-2014/. Prices start at €89 per night per person based on double-occupancy for a 3-star hotel in the city center and at €119 per person for a 4-5 star hotel. All packages include breakfast, a Düsseldorf Welcome Card (free public transportation within city limits, 1 ticket to Quadriennale Düsseldorf 2014, plus more than 40 free or reduced admissions to city attractions), a city information package, and a MERIAN city guide.
# # #
Düsseldorf Marketing & Tourism GmbH is the visitors and convention bureau of the city of Düsseldorf. Its responsibilities include tourism and city marketing, as well as conference and meeting marketing, hotel reservation services, fairs and convention services, city event ticket sales and advance ticket reservations. For more information, visit http://www.visitduesseldorf.de.
Düsseldorf Airport, Germany's Next Generation HubTM, offers several non-stop flights from US & Canadian cities (Atlanta, Chicago, Ft. Myers, Los Angeles, Miami, New York, Newark, Toronto), as well as convenient connections to many European cities. For more information about the airport, visit http://www.dus.com.