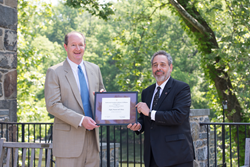 "Hagley is a place where people can experience the history of innovation and be inspired to innovate in their own lives. The Smithsonian offers an unmatched set of resources that we can use to fulfill our vision," says Hagley Executive Director David Cole
Wilmington, Delaware (PRWEB) June 05, 2014
Hagley Museum and Library is the first organization in Delaware to be designated an Affiliate of the Smithsonian Institution. The Smithsonian Affiliations program seeks to increase discovery and inspire lifelong learning in communities across America.
"We are delighted to have been accepted into the Smithsonian Affiliations program," says Hagley Executive Director David Cole. "Hagley is a place where people can experience the history of innovation and be inspired to innovate in their own lives. The Smithsonian offers an unmatched set of resources that we can use to fulfill our vision."
New Partnership and Endless Possibilities
The missions and strategic goals of both institutions align. Both seek to use technology to expand audience access, increase relevance to communities through programming, and build partnerships to strengthen impact. Hagley's partnership with the Smithsonian will facilitate the loan of artifacts and traveling exhibitions, and development of innovative educational programming at Hagley.
"The Hagley Museum and Library has long been recognized for its excellence in preserving the story of America's early industrial heritage and of linking it in highly relevant ways to the present and future. The arts and industries of America have long defined the Smithsonian's core interests as well. Together, and through this new Affiliate partnership, we look forward to developing collaborations that will amplify the story of innovation and entrepreneurship, and inspire a new generation to apply their creative talents to the opportunities of our times," says Harold Closter, Director of Smithsonian Affiliations.
In addition to opportunities with the Smithsonian Institution, Hagley will also gain access to the expertise and collaborative opportunities within the Smithsonian Affiliates network. There are currently 192 Smithsonian Affiliates in 45 states, Puerto Rico, and Panama. Notable Affiliates include Plimoth Plantation in Plymouth, MA; Challenger Space Center Arizona in Peoria, AZ; California Science Center in Los Angeles, CA; Mystic Seaport in Mystic, CT; and George Washington's Mount Vernon Estate and Gardens in Mount Vernon, VA.
Shared History
This prestigious designation formalizes the longstanding relationship between Hagley and the Smithsonian Institution. Founded in 1952 and opened to the public in 1957, Hagley Museum shares an early history with the National Museum of American History (then the National Museum of History and Technology). The museums shared ideas, collections, researchers, and scholars of technology. They joined together to create the Society for the History of Technology, the Society for Industrial Archeology, and the Historic American Engineering Record.
The relationship continued to develop. Many Smithsonian staff began as Hagley Fellows, interns, and volunteers. Hagley personnel have maintained personal relationships with Smithsonian staff, and received fellowships from the Lemelson Center for the Study of Invention and Innovation at the National Museum of American History. Hagley's director of the Center for the History of Business, Technology, and Society is currently a member of the Lemelson Center's Advisory Board.
About Smithsonian Affiliations
Established in 1996, Smithsonian Affiliations is a national outreach program which develops long-term collaborative partnerships with museums and educational and cultural organizations to enrich communities with Smithsonian artifacts, scholars, educational programs, and professional development opportunities. The long-term goal of Smithsonian Affiliations is to facilitate a two-way relationship among Smithsonian Affiliates and Smithsonian museums, research, education, and outreach organizations to increase discovery, inspiration, and lifelong learning in communities across America. More information about the Smithsonian Affiliations program and Affiliate activity is available at http://www.affiliations.si.edu.
About Hagley Museum and Library
At Hagley, we invite people of all ages to investigate and experience the unfolding history of American business, technology, and innovation, and its impact on the world, from our home at the historic DuPont powder yards on the banks of the Brandywine.
Admission to the entire 235-acre museum is $14 for adults, $10 for students and senior citizens, $5 for children six to fourteen, and free for members and children five and under.
For more information, call (302) 658-2400 weekdays or visit http://www.hagley.org.
# # #