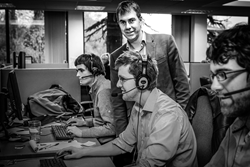 (PRWEB) June 04, 2014
Metaswitch Networks is excited to work with members of the Project Clearwater Ecosystem, June 6-7, at the TADHack event in Madrid. TADHack is an independent event designed to raise the profile of telecom application developers, providing them support and industry connections to help them create a sustainable and profitable telecom application ecosystem.
Project Clearwater is an open source implementation of IMS built using Web development methods to provide voice, video and messaging services to millions of users. Metaswitch, along with its partners, continues to develop and enhance Project Clearwater because the company believes that sharing knowledge, experience and the Project Clearwater codebase will encourage more industry innovation and help today's network operators evolve into software telcos.
The Project Clearwater Ecosystem pulls together a variety of companies working with IMS, Network Functions Virtualization (NFV) and systems integration as a way of offering out-of-the-box interoperability and expertise to fast-track solutions built on Project Clearwater throughout the planning, design, implementation and deployment process.
"Project Clearwater is a mass-market VoIP services platform, designed from the ground up to leverage the cloud," says Paul Drew, general manager of Metaswitch's Open Source Business Unit. "By meeting with members of the Project Clearwater Ecosystem at TADHack Madrid, we can more capably help network operators and others build NFV environments more quickly, and with fewer integration headaches, so they can focus on providing revenue-generating services to their subscribers."
There are nine ecosystem members so far, with more being added in the next few days. For a full list of Project Clearwater Ecosystem partners, please visit: http://www.projectclearwater.org/ecosystem/.