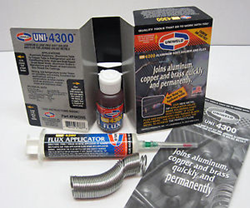 Quality tools that go to work with you.
Fort Lauderdale, Florida (PRWEB) June 05, 2014
Uniweld's UNI-4300 aluminum soft solder kit available with or without the metal tip applicator is a great solution for the service technician who is frequently confronted with the task of repairing aluminum or joining aluminum to aluminum, aluminum to copper, or aluminum to brass.
A common repair problem occurs when an air conditioning system's evaporator coil develops a small pinhole leak.
UNI-4300 is an excellent product for this repair application due to its low melting point of 500ºF (260ºC) and 20,000 PSI tensile strength.
Uniweld Products, Inc., is a global leader in the manufacturing of tools for the HVAC/R industry as well as oxy/fuel welding and cutting equipment and accessories that has manufactured quality welding and cutting equipment at its factory located in Fort Lauderdale, Florida U.S.A. since 1949.