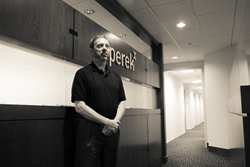 "I am privileged to be recognized alongside such reputable industry peers for this award," says Sandy.
Raleigh, NC (PRWEB) June 04, 2014
Aperek, a leading provider of real-time spend visibility and supply chain analytics solutions for the healthcare industry, announced that Triangle Business Journal named the Aperek chief financial officer (CFO), Phil Sandy, as one of the "2014 CFOs of the Year." Triangle Business Journal will honor award recipients at the Raleigh Marriott City Center on July 10, 2014.
The Triangle Business Journal "2014 CFO of the Year" award distinguishes 17 finance executives in the Raleigh-Durham area who have exhibited outstanding fiscal stewardship and community service. Winners were selected for providing sound financial oversight for their companies and for their positive impact on the Raleigh-Durham community.
"Phil's vision and ability to see beyond just the numbers enables him to implement the necessary infrastructure to help scale and grow any organization," says Mike Merwarth, Aperek CEO. "In addition to his financial expertise, Phil demonstrates a tremendous amount of integrity, dedication and business acumen, which deserves to be honored."
Sandy brings more than 20 years of leadership experience with software companies to his role as CFO at Aperek. Prior to joining Aperek, Sandy served as CFO of Global Software Incorporated. Sandy joined Aperek in 2000 and has since helped pioneer Aperek financial products into the highest ranked customer products in Klas and mdBuyline. Sandy also played an instrumental role in developing and designing the Aperek suite of financial solutions. He also has been instrumental in the release of Aperek PulseTM one of the latest innovations from Aperek.
"I am privileged to be recognized alongside such reputable industry peers for this award," says Sandy. Aperek is pleased and proud to celebrate Phil Sandy as one of Raleigh's finest fiscal stewards.
###
About Aperek
Aperek is a leading provider of web-based analytics and savings solutions for the healthcare supply chain. Aperek has spent years working alongside clients to reduce operational expenses, improve spend visibility and uncover significant savings opportunities. Aperek offers an innovative suite of solutions – Aperek EllipseTM; Aperek PulseTM; Aperek Supply ChainTM, Aperek General LedgerTM; Aperek Accounts PayableTM; Aperek Fixed AssetsTM. These products, along with a dedicated team of Aperek consultants, earn consistent high rankings in Klas and mdBuyline year over year. For information, please visit http://www.aperek.com/.
Media Contact:
Kristi Jones
Aperek Director of Marketing
Kristi.jones(at)aperek(dot)com