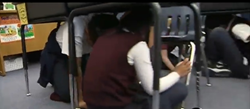 'MCS employs this state-of-the-art technology to enhance school safety. Parents expect the safest environment possible for their children,' says Dr. Ken Van Meter, MCS Superintendent.
San Jose, CA (PRWEB) June 05, 2014
Milpitas Christian School (MCS) working with Seismic Warning Systems, Inc., (SWS) of Scotts Valley, CA has significantly improved its ability to prepare for an earthquake. In April 2004, MCS installed QuakeGuard™ an earthquake early warning system manufactured by SWS that uses an advanced patented P-wave technology that notifies the school of an impending earthquake before the ground begins to shake.
Milpitas Christian School simulated the procedures it will go through in the event of an earthquake using state-of-the-art real-time earthquake detection technology. Representatives from Seismic Warning Systems, the California Office of Emergency Services (OES), the Santa Clara County Office of Emergency Services, and Chief Mihovich from the Milpitas Fire Department together looked on as the early warning system alerted students, faculty, and staff of an imminent earthquake. Milpitas Christian School uses a highly acclaimed standard operating procedure for natural disasters.
The California Government Code, Title 2, Division 1, Chapter 7, Article 5, Section 8587.8, mandates the collaborative development of a statewide earthquake early warning system in California. Milpitas Christian School has taken the initiative to implement an earthquake preparedness technology that can best protect its human and physical assets in the event of a quake.
Real-time earthquake preparedness enables Milpitas Christian School to provide the greatest care possible for its students. Historical evidence suggests that earthquake preparedness in California is not an overreaction. The P-wave technology detects the earthquake before the shaking starts at the epicenter. The benefits of our approach is to deliver the greatest measure of human survival in the event of an earthquake.
To get more information about Milpitas Christian School, please visit http://www.milpitaschristian.org.
ABOUT THE MILPITAS CHRISTIAN SCHOOL
Milpitas Christian School (MCS) began operations 40 years ago in 1974, and prepares students for a lifetime of learning, service to their communities, leadership, and future success. MCS delivers an uncompromisingly high academic standard education, develops good character, and has earned the top most affirmation in accreditation with a proven track record of educational success. MCS provides a biblical worldview that educates the whole child at a reasonably low cost.
DISCLAIMER
Milpitas Christian School, Inc., does not discriminate on the basis of sex, race, national, or ethnic origin in the administration of any administrative practices or policies.