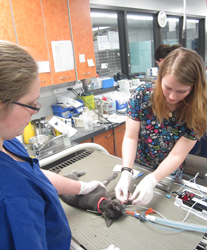 It is concerning – we know there are unfixed cats out there making kittens and we can help.
Winnipeg, MB (PRWEB) June 05, 2014
The Winnipeg Humane Society clinic is at an unseasonal low for its subsidized spay and neuter program, SNAP. Winnipeggers on fixed or low income can apply for SNAP to fix their cat for around $30. Ideally, the WHS clinic performs 10 or more SNAP surgeries per day, but very few slots have been booked up for June and July.
"It is concerning – we know there are unfixed cats out there making kittens and we can help," said Dr. Erika Anseeuw, WHS Director of Animal Health. "We held the very successful Beat the Heat program earlier this year, where we performed 500 spay surgeries in one month before cats entered their first heat. We want people to know they can fix their cat with us year-round."
Spay and neuter surgeries at Winnipeg veterinarian clinics typically range between $125 and $225. Spaying and neutering is crucial as many shelters are overcrowded and too many cats remain homeless. SNAP usually has long wait times so The WHS is encouraging those interested to book now before the rush picks up.
"The best way to keep unwanted litters off the streets is prevention," said Dr. Anseeuw. "We need to start doing more spay and neuters. Spaying or neutering your pets will help end Winnipeg's cat overpopulation crisis."
Subsidized spay and neuter surgeries are also available for dogs and rabbits, and for pets living outside of Winnipeg. Participants in this program may qualify according to their household income. Call 204-888-SNAP (7627) for more information or to book an appointment.
###
The Winnipeg Humane Society is a registered charity and non-profit organization whose mission is to protect all animals from suffering and to promote their welfare and dignity. Funded primarily by donations, The WHS takes in over 8,000 animals on an annual basis. All pets offered for adoption and sale have been spayed or neutered, received necessary shots and treatments, and a behavioural assessment. For more information on The WHS, please visit winnipeghumanesociety.ca.