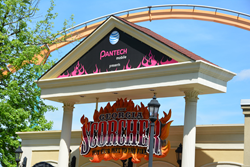 Atlanta, GA (PRWEB) June 05, 2014
Pantech Mobile, the innovative and leading wireless device manufacturer and U.S.-based subsidiary of Pantech Co., Ltd. and AT&T are renewing their relationship with Six Flags Over Georgia this summer. Pantech Mobile and AT&T also announced today a new marketing partnership with Six Flags Magic Mountain in Los Angeles. With this sponsorship, Pantech and AT&T will be fully integrated into the overall park experience at the largest regional theme parks in the Southeast and greater LA area for the 2014 season.
The Six Flags partnership includes Pantech Mobile and AT&T-branded signage and video throughout the two theme parks. Pantech Mobile and AT&T will also host promotional days around the It Can Wait campaign, where park attendees can experience a Texting & Driving Simulator and take the pledge to not text and drive. AT&T retail stores will provide coupons for a $13 discount off admission to Six Flags Over Georgia in the Southeast markets, and a $20 discount off admission to Six Flags Magic Mountain in the greater LA area.
"We are excited to expand our partnership with Six Flags to include Six Flags Magic Mountain in Los Angeles in addition to Six Flags Over Georgia," said Erin Magee, Director of Marketing, Pantech Mobile. "Partnering with Six Flags theme parks is an effective way for Pantech Mobile to engage with our target consumers – families, teens and tweens – in a fun and interactive way and generate valuable exposure around Pantech Mobile's wireless devices.
Pantech Mobile supports AT&T's It Can Wait® campaign to end texting and driving. To take the pledge and see a list of supporters, visit http://www.ItCanWait.com. For additional information and resources, visit http://www.att.com/itcanwait.
Pantech Mobile devices can be found at AT&T stores and retailers nationwide. Boasting some of AT&T's most unique cell phones, Pantech Mobile's devices are innovative lifestyle products designed to keep consumers connected at all times. Whether zipping off a quick text to friends during a concert or updating their status with a clever video clip, Pantech Mobile products deliver state-of-the-art experiences for today's on-the-go and constantly connected person.
Pantech Mobile recently launched the Pantech Vybe, an affordable, easy to use quick messaging phone with a large touchscreen display, slide-out keyboard, quick camera button, social media shortcuts and the ability to customize multiple homescreens with favorite apps and web bookmarks. Perfect for those who want quick access to messaging and social media in a fashionable, compact and sleek form factor, the Pantech Vybe is available exclusively at AT&T stores nationwide and online at att.com for $29.99 with a new two-year contract. Learn more at http://www.myfirstphone.com.
About Pantech
Pantech Mobile, Inc., an Atlanta based subsidiary of Pantech Co., Ltd., researches, markets and develops wireless handsets, tablets and telecommunications products throughout North America as part of the Pantech Group. For additional information, visit the PWI website at http://www.pantechusa.com and connect socially on Facebook, Twitter and Instagram.
About Six Flags Entertainment Corporation
Six Flags Entertainment Corporation is the world's largest regional theme park company with $1.1 billion in revenue and 18 parks across the United States, Mexico and Canada. For 53 years, Six Flags has entertained millions of families with world-class coasters, themed rides, thrilling water parks and unique attractions including up-close animal encounters, Fright Fest® and Holiday in the Park®. For more information, visit http://www.sixflags.com.