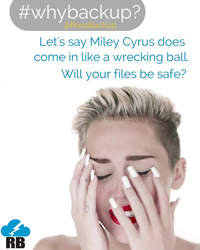 Saddle Brook, New Jersey (PRWEB) June 05, 2014
As Apple presents its new iCloud Drive at WWDC 2014, RossBackup launches its first ever contest—a coincidental reminder that while cloud storage is essential in a digital age, it does not require a high cost or big brand name to be effective. The multiplatform contest allows users to enter on Twitter, Facebook, and Instagram using the hashtag #WhyBackup along with the tag @RossBackup. Entrants must provide a one-line response to the question: 'Why would you back up your files?' Six grand prize winners will win iPad Minis and a year of unlimited cloud storage.
Additionally, unlimited storage packages will be awarded sporadically throughout the month.
The contest will last for the duration of June and users may enter once daily on any (or all) of the three social platforms. Responses can be serious, silly, witty, creative, or logical; relevance and originality are most important. The iPad Mini winners will be announced each Monday, with the last two winners announced randomly during the month.
#WhyBackup? Because losing the photos of my dad in a chicken suit would be devastating.
Because using a computer is like driving a car. Even if you're really careful, nobody can warn you before a crash. #WhyBackup
#WhyBackup? Because word on the street is that iPhone storage is the equivalent of using a ziplock bag as a suitcase.
Because simple drive recovery can cost upwards of $7,000 with no guarantee of recovery. #WhyBackup
#WhyBackup? Because Snapchat already saw…everything.
Because the worst part of losing your files might be that for $5/month you could have prevented it. #WhyBackup
Contact:
Rania Eldekki, 201-710-7135
About:
After a fire destroyed his home, Aaron Ross was relieved that he had previously backed up his computer with a cloud storage program. Shortly after, he learned that his provider had failed to do its job, saving only two of his file folders. One year later, Mr. Ross founded RossBackup in an effort to combat such faulty cloud storage programs. His mission was to create an inexpensive, intelligent, easy-to-use, dependable and secure cloud storage service. RossBackup is exactly that.