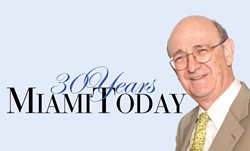 News consumption is no longer primarily a print experience.
Miami, Fl (PRWEB) June 05, 2014
Miami Today newspaper's new-mobile friendly website has seen exceptional results since its re-launch with a pageview growth of 66% over the same period last year. In late September Miami Today launched an all-new website dedicated to providing readers with 24/7 access to breaking news stories about business and commerce in Miami-Dade County. Accessible from any PC, tablet, or mobile phone, the new website helps subscribers keep a finger on the pulse of Miami's most important business sectors, both in the office and on-the-go.
Within the first six months of the September 2013 re-launch of miamitodaynews.com, Miami Today saw an increase of 40% over the prior year with traffic steadily increasing.
"News consumption is no longer primarily a print experience," explains Michael Lewis, Miami Today publisher and editor. "We believe news leaders are obligated to deliver coverage that is both exceptional and accessible. Our new website does both, providing subscribers with access from PC, tablet, or mobile phone."
Now in its 32nd year, Miami Today has become the newspaper for Miami-Dade County's business establishment. A trusted voice and source for business information locally, Miami Today draws a readership comprised of well-educated, high-earning "movers and shakers" who rely on the publication for exceptional insight on the past, present, and future of Miami. Miami Today has been a leading provider of business news and analysis for local and international business, finance, and real estate sectors.
Aptly named the Gateway to the Americas, Miami serves as a vital link between U.S. and Latin American business and trade. In such a diverse and dynamic business environment, international business professionals trust Miami Today to provide leading coverage of regional business and civic developments, localized business trends, and much more. The content is focused on a business and executive audience, providing them information they cannot get from other publications, including the daily newspaper.
International business lays the foundation for international finance, a thriving business sector that Miami Today covers with unparalleled insights, trends, and analysis.
From bubble to bust and back again, no publication has tracked the Miami real estate market with greater depth and accuracy than Miami Today. Drawing hard numbers and expert insights from leading developers, brokers, and firms, Miami Today delivers the latest in commercial and residential developments, trends, and news to equip both local and international investors with the analysis needed to make wise investment decisions.
Visit Miamitodaynews.com to view subscription information. To learn more about advertising with Miami Today, visit this page on advertising opportunities in both print and digital editions.
Miamitodaynews.com designed and developed by Accelerank, Miami's leading responsive design and online marketing agency.