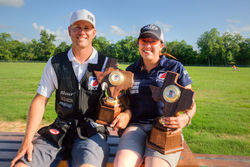 Houston,TX (PRWEB) June 06, 2014
Event #2 of the 2014 Professional Sporting Clays Association (PSCA) Tour is in the books. The competition was tough and the targets were tougher.
Heavy rains and flooding in the Houston area, forced a venue change from American Shooting Centers to Providence Plantation. Although the venue change required a last minute shuffle by PSCA staff and competitors, the shooting action was highly competitive. The first two rounds were completed under threatening skies. The final round on Sunday was completed under blue skies but the targets remained evasive.
Through two days of shooting, the competition remained close. Event two results were as follows:
Men's Professional Division
1. Cory Kruse: 257
2. Brandon Powell: 254
3. Kevin DeMichiel: 253
Women's Professional Division
1. Desirae Edmunds: 230
2. Ashleigh Hafley: 211
3. Jenni Clark: 198
Comprehensive results may be viewed at http://www.psca.com. Media may register for credentialing at psca.com/contact-us/media-press. Spectators may attend all events at no charge. For any additional questions, please contact PSCA Match Director Mike Balke at mbalke(at)psca(dot)com or (330) 241-9199.
About The Professional Sporting Clays Association
The purpose of the Professional Sporting Clays Association (PSCA) is to provide a professional tour for top athletes. This tour will give qualified top athletes of the sport greater access to closed competition with other athletes of similar skill. It will also provide access to media and other notoriety, which in turn will allow them all of the benefits of other professional sports. By creating such an association, the benefits will not be limited to the professional athletes, but also to amateur competitors, club owners, and the entire industry by allowing greater mainstream acceptance of the sport. Updated news and events news regarding PSCA can be found at http://www.psca.com and by following PSCA at facebook.com/PSCAtour and twitter.com/PSCAtour.