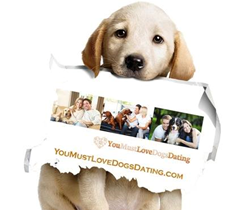 Tampa, FL (PRWEB) June 11, 2014
Kris Rotonda, founder and CEO of the newly updated dating site for dog lovers called YouMustLoveDogsDating.com, plans to help singles with canine companions meet their perfect human counterparts.
While dating for several years, Rotonda, 26 and the owner of four dogs, encountered an unexpected problem – not everyone is a dog person. In fact, some are downright callous in their treatment of man's best friend.
"One girl I'd dated – I couldn't believe it – she just left her dogs with me and never came back for them!" says Rotonda, who felt a clear need for a dating site for dog lovers.
"Growing up, I had no idea there were actually people out there who didn't care for or treat their dogs well. Dogs require a full commitment from owners every day, and this bond is just like a parent-child relationship. If you're dating, you need to find people who understand that bond."
Now in a long-term relationship, Rotonda says that his dating site for dog lovers is similar to a site that seeks to match singles who are also parents, who refuse to compromise their love for their children for a potential romantic partner.
YouMustLoveDogsDating.com now boasts more than 2 million members, and continues to grow. Getting started is easy. Interested parties can register any time and complete a profile. Then, they can choose one of three monthly payment options. One month with no commitment costs $29.95; a three-month commitment costs $19.95 per month; and for six months, members pay $15.95 each month.
"One of the dynamics that so many hopeful singles love about the site is that their dogs are a perfect means to vet a potential partner," Rotonda says.
"So many dating sites these days seem to create a perpetual cycle of short-term hookups, but there are millions and millions of people out there like me, who want true love – the real deal – in a relationship that respects and even treasures the powerful bonds we already have."
About Kris Rotonda
Kris Rotonda is the founder and CEO of YouMustLoveDogsDating.com, a website devoted to singles who've already found their canine companions, but have yet to find true human love. Rotonda, a competitive body builder and successful real estate agent, had experienced a number of unexpected challenges as a bachelor and dog owner and saw the need for a dating site geared toward like-minded dog lovers. He earned his bachelor's degree from St. Petersburg College.