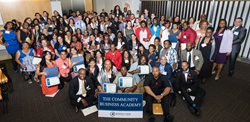 Taking the CBA taught me how to grow my business in a realistic and sustainable way, while gaining valuable budgeting and marketing skills.
Jersey City, NJ (PRWEB) June 05, 2014
Tuesday night, 130 entrepreneurs and micro-business owners graduated from Rising Tide Capital's (RTC) nationally recognized 12-week Community Business Academy (CBA). In 2013 graduates of the program created 154 new jobs in their communities, contributing to their local economic growth. Held at Goldman Sachs in downtown Jersey City, the graduation recognized the achievement of students in six concurrent sessions of the CBA.
Myani Lawson, Jersey City business owner and one of last night's graduates, will open her Montessori Pre-school in the Bergen-Lafayette section of Jersey City this September, and plans to open two other locations in Greenville and Jersey City Heights. After a year of searching for a pre-school for her daughter, Lawson decided to open her own school utilizing the Montessori method of learning through discovery. Her goal is to provide a low-cost and diverse hands-on learning experience that will bring quality education to under-served communities.
Lawson initially started her own education consulting company in June 2008, helping schools rewrite their curriculum, coaching teachers and conducting parent workshops. One year later she formed her non-profit The Learning Suite, providing supplemental education services to pre-schools.
"In the six years I've been in business I have been in and out of the red. I knew I wanted to expand my services to a wider array of schools, however my passion for teaching didn't necessarily translate to running a successful business. Taking the CBA taught me how to grow my business in a realistic and sustainable way, while gaining valuable budgeting and marketing skills," Lawson said. "The homework especially helped me put together my website and marketing materials. It's not fluff; you can use everything they provide," she added.
As a participant in the Community Business Academy, Lawson and her fellow graduates gained access to one-on-one business coaching and credit counseling. "What makes RTC stand out is the continued support they offer. Even before I officially graduated, I was able to get help in growing my business, including assistance with negotiating the commercial lease for my school this fall."
In addition to their Community Business Academy certificate, each graduate received a citation from Senator Sandra Cunningham, and free membership into the Statewide Hispanic Chamber of Commerce of New Jersey. Featured speakers included City of Jersey City Mayor Steve Fulop, Rising Tide Capital's Chairman of the Board of Trustees Doug Forrester, cofounders Alex Forrester and Alfa Demmellash as well as representatives from each of the six sessions of the CBA.
"What really sets Rising Tide Capital apart from other business programs is that they give you more than just business information, but a community of support that helps entrepreneurs to overcome their fears and take that leap of faith. As an instructor, I feel privileged to be a part of Rising Tide Capital's mission. Every time I attend a graduation I am humbled by the growth I see and the opportunity to play a small part in actualizing someone's dreams," said CBA instructor Kene Turner.
The Fall 2014 class will join RTC's current alumni network of 838 entrepreneurs who operate a variety of businesses, including professional service providers, artisans and retail store owners. The CBA, offered in locations throughout Hudson and Essex Counties, teaches entrepreneurs business fundamentals including budgeting, marketing, bookkeeping and financing. Each CBA student receives a full-tuition waiver—covered by Rising Tide Capital's funding partners—and continued business support through the Business Acceleration Services Program.
"It was amazing to witness our largest graduation of entrepreneurs to date, and to see the excitement on everyone's faces," said Mary Sansait, CBA program manager at Rising Tide Capital. "The community of entrepreneurs we've created, along with our network of support and resources from our partner organizations, play a vital role in each of our entrepreneurs' journeys and gives them the boost of confidence to accomplish their dreams and goals. I'm so proud that Rising Tide Capital can play a role in their professional and personal success!"
Rising Tide Capital
Rising Tide Capital is a Jersey City-based nonprofit organization founded by Harvard graduates Alex Forrester and Alfa Demmellash in 2004. We believe that the best way to revitalize local economies is to support the entrepreneurial energy and talent that exist in every neighborhood. Rising Tide Capital's programs provide entrepreneurs with:

Knowledge Capital- affordable classes that teach entrepreneurs how to plan, start and run a business;
Social Capital- professional coaching, mentoring and networking opportunities with other entrepreneurs and local business experts; and
Access to Financial Capital- guidance on financial planning and accessing funding.
Our model for supporting local entrepreneurship has received national recognition—from President Barack Obama to CNN Heroes—but our true success is in our entrepreneurs. When they succeed, they not only generate income for their families, but also create a ripple effect when they pay taxes, source locally and hire employees. To learn more, visit http://www.RisingTideCapital.org and follow us on Twitter @RisingTideOrg.
About the Community Business Academy
Founded in 2006, the Community Business Academy provides entrepreneurs with the tools, concepts and skills needed to plan and operate a successful business. Classes are currently offered in high-unemployment communities in Jersey City, Union City, Newark and the City of Orange Township on weekday evenings and Saturday mornings. To date, 839 entrepreneurs have graduated from the program with the assistance of tuition-waivers which are generously underwritten by Rising Tide Capital's funders.
To learn more, visit http://www.Programs.RisingTideCapital.org.