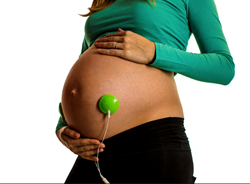 'The proceeds from sales of Bellybuds is really going to help us reach more patients. It's going to help our music therapists provide more direct services to patients, and we're very grateful,' said Alexandra Field, CHLA
Los Angeles, CA (PRWEB) June 11, 2014
Belly Buds LLC, manufacturer of Bellybuds® | Baby Bump Sound System announced today a commercial co-venture partnership with Children's Hospital Los Angeles (CHLA) to benefit the hospital's Mark Taper-Johnny Mercer Artists Program. Effective immediately, Belly Buds LLC will donate one percent of the Manufacturer's Suggested Retail Price (MSRP) for each unit sold this calendar year. While Belly Buds LLC will donate up to $150,000, they have guaranteed a minimum of $25,000 to CHLA.
"At Belly Buds LLC, we seek to enrich the bond between parents and their babies through music and sounds," said Curtis Williams, creator of Bellybuds. "We're thrilled to take this mission a step further by supporting CHLA's Mark Taper-Johnny Mercer Artists Program."
CHLA's Mark Taper-Johnny Mercer Artists program benefits patients of all ages and combines the dynamic energy of local artists and performers with the specialized therapeutic training of registered and certified art and music therapists. Through their contribution, Belly Buds LLC seeks to increase the number of music therapists in CHLA's acclaimed Newborn and Infant Critical Care Unit (NICCU).
"This program, and specifically the music therapy it provides to newborns, is truly a perfect fit for Bellybuds," added Matt von Waaden, partner, Belly Buds LLC. "We're honored to be contributing and playing a part in helping to get these babies well enough to go home to their families."
Preliminary findings by CHLA researchers have shown that more than 93 percent of infants with accelerated heart rates may benefit from music therapy. Existing research also suggests that music therapy can shorten the duration of hospitalization for NICCU patients, in some cases by as much as twelve days.
Bellybuds is no stranger to the power of music. In fact, the mother of a CHLA NICCU patient played music to her baby in utero while pregnant. "I used Bellybuds all the time during my pregnancy. He [my son] would always kick and dance in my stomach to the music, and he loved it! I knew he would be a fighter and strong since he was so active with the music and now is active and a fighter since being born at 25 weeks." This particular patient has received music therapy every week since being admitted to the NICCU and is responding very positively.
"There's definitely a difference that we see when parents have used music with their baby while in the womb," said Alexandra Field, Manager of the Expressive Art and Therapies Department, CHLA. "For those parents, their infant often responds quicker to music; we see their vital signs change immediately, and their body physiologically responds very quickly. We have a very, very large NICCU here at CHLA. Bellybuds is going to help us reach more patients and help our music therapists provide more direct services to patients."
All Bellybuds packages are now marked with the CHLA seal and contain an insert detailing the giving specifics associated with the partnership. To give directly to CHLA, prospective donors can visit CHLA.org/BELLYBUDS. Join the conversation on social media by using the hashtag #bellybudsgives.
About Belly Buds LLC
Belly Buds LLC, based in Los Angeles, California, develops innovative, safe and socially conscientious products and services for expectant mothers and their families. Belly Buds is committed to strengthening the bond between parents and children at all stages, from conception through birth and beyond.
For more information, please visit Bellybuds.com. Follow us on Twitter, Facebook, Instagram, Pinterest and YouTube.
About Children's Hospital Los Angeles
Children's Hospital Los Angeles is the premier charity for children in Southern California, treating more than 104,000 children annually from Los Angeles and around the world. The hospital provides the equivalent of $221 million in health programs, services and other community benefits for Los Angeles children and families. As a pediatric charity of choice, the hospital relies on the generosity of the community to support the complex care it provides for critically ill and injured children. CHLA is among the few centers in the United States to raise more than $1 billion in support of pediatric clinical care, teaching and research in a single campaign—ranking among the most successful pediatric philanthropic programs in the nation.
For more information, visit CHLA.org. Follow us on Twitter, Facebook, Instagram, Pinterest, YouTube, LinkedIn, or visit our blog: WeAreCHLA.org.