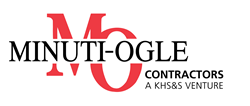 Anaheim, California (PRWEB) June 05, 2014
KHS&S Contractors, one of the largest specialty contractors in the United States, has joined forces with Minuti-Ogle Co., Inc., one of the oldest and most revered wall and ceiling contractors in Minnesota, to form Minuti-Ogle Contractors, a KHS&S Venture. The venture expands KHS&S' presence in the Upper Midwest while providing Minuti-Ogle access to KHS&S' national resources and design-assist construction capabilities.
"Minuti-Ogle begins an exciting new chapter," said Thomas G. Panek, president and CEO, Minuti-Ogle Co., Inc. "We have consistently been a client-focused company, and this venture allows us to offer enhanced preconstruction services, national design-assist expertise and prefabricated building options while maintaining the same high levels of construction quality and service. I'm confident our clients will be as happy as we are about this new direction."
"I can think of few companies I am prouder to be working with than Minuti-Ogle," said Dave Suder, president/CEO, KHS&S Contractors West Coast. "The Minuti-Ogle name is synonymous with quality construction, and Tom Panek has led a team whose integrity and reputation are beyond compare. KHS&S is proud to be a part of continuing Minuti-Ogle's storied 100-year legacy."
For the remainder of 2014, Minuti-Ogle Contractors, a KHS&S Venture will manage and complete specific projects that are currently under construction, including Minneapolis' Washburn Center for Children, a multimillion-dollar manufacturing facility for Olympus Surgical Technologies, and multiple projects at the University of Iowa. Going forward, all newly contracted work will be managed and completed by the new venture.
Minuti-Ogle Contractors, a KHS&S Venture will operate from the existing Minuti-Ogle Co., Inc. office at 7030 6th Street North, Oakdale, Minn., 55128. For more information, contact Bruce Holleran, director of business development, KHS&S Contractors, at 714-695-3670.
About Minuti-Ogle Co. Inc. http://www.minuti-ogle.com
Minuti-Ogle Co., Inc. is one of the oldest and largest wall and ceiling specialty contractors in Minnesota, offering a full range of interior/exterior construction services including metal stud framing, drywall installation and finishing, stucco, EIFS, GFRC, plaster and ornamental plaster. Founded in 1903 by Italian-born plaster artists who worked on projects such as New York's Grand Central Station, Minuti-Ogle Co., Inc. grew and thrived through more than a century marked by war, economic turmoil and unending innovation in the building industry. Today their portfolio includes projects such as the Mall of America, the 57-story IDS Center, and other regional iconic projects, including projects throughout Wisconsin and Iowa.
About KHS&S Contractors http://www.khss.com
KHS&S is a national design-assist specialty building company that creates interiors, exteriors, themed environments, rockwork, water features and specialty finishes for some of the world's most recognized projects. KHS&S combines quality construction techniques with BIM and virtual project delivery to offer innovative building methods such as prefabricated building components and other lean construction methods that streamline schedules and add value to large-scale commercial projects. The company operates in 14 U.S. cities, with additional alliances throughout Asia and the Middle East. Projects include numerous projects for Universal Studios and Walt Disney Company, more than 50 medical centers throughout the U.S. and more than 40 casino projects in every major U.S. gaming destination. Projects in the Upper Midwest include Children's Hospital, Akron, Ohio and Hard Rock Hotel, Sioux City, Iowa.