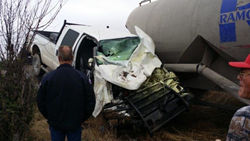 The oil boom has made it hazardous to drive on the roadway in the Eagle Ford shale these past few years
San Antonio, TX (PRWEB) June 06, 2014
Mr. Manuel Moreira has filed suit against Ramon's Rentals, a trucking company operating in McMullen County, and Cresencio Gallegos, the driver of the commercial truck that struck Moreira's vehicle in March of 2014 and caused Moreira serious injuries.
According to the recently filed suit (Cameron County District Court, Case Number 2014-DCL-03693-E), Gallegos, driving a truck for Ramon's Rentals, allegedly failed to pay proper attention as he approached a vehicle stopped in the roadway. While swerving his truck to avoid a collision, Gallegos veered into oncoming traffic, where he then struck the vehicle in which Manuel Moreira was a passenger. Moreira suffered severe injuries as a result of the collision and was taken to University Hospital by AirLife.
The suit filed by Moreira claims that Gallegos failed to maintain a proper lookout, applying his brakes in a manner insufficient to avoid the incident, and failed to control his speed. Ramon's Rentals was also sued because Gallegos was driving on the job at the time of the collision, which also makes the employer legally responsible for his negligence.
According to the Texas Peace Officer's Crash Report (TxDOT 13728365.1/2014082349), the driver "was distracted in his vehicle and locked his brakes to avoid hitting a vehicle in front of him." The attorney for Mr. Gallegos, Andrew Rodriguez, states, "Distracted driving constitutes negligence, which in this case resulted in serious injury. As a result of this event, both Mr. Gallegos and his employer, Ramon's Rentals, are facing a lawsuit for the damages."
Attorney Tom Crosley, whose firm has represented several victims of commercial truck crashes in the region, commented that "the oil boom has appeared to create more hazardous conditions on the roadway in the Eagle Ford Shale these past few years" when asked about the case.
Mr. Moreira's lawsuit seeks monetary damages for reimbursement of medical expenses, lost earnings, physical pain, and mental anguish for the plaintiff.
The Crosley Law Firm is a personal injury law firm headquartered in San Antonio. Attorney Thomas A. Crosley is board certified in Personal Injury Trial Law by the Texas Board of Legal Specialization and board certified as a Civil Trial Advocate by the National Board of Trial Advocacy. Mr. Crosley and Mr. Rodriguez have extensive experience representing clients in personal injury lawsuits and have been recognized by S.A. Scene Magazine and included in their list of San Antonio's Best Lawyers in 2014. Learn more about the firm at http://crosleylaw.com.