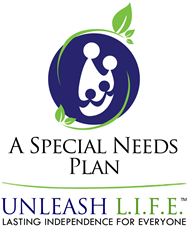 We are passionate about helping to alleviate the anxiety surrounding special needs planning and to transform that feeling of anxiety into a sense of empowerment, so that you are able to provide for your loved one with special needs, while at the same time
Charlotte, NC (PRWEB) June 06, 2014
The Unleash L.I.F.E. - Lasting Independence For Everyone education series consists of 20 minute special needs planning topic presentations beginning Friday, June 13th at 12 p.m., and continues every other week at 12 p.m. est. until September 5th.
Ryan Platt, a Chartered Special Needs Consultant and founder of A Special Needs Plan speaks as part of their Million Family Mission in providing families with accurate and credible information so that families are able to provide for their loved one with special needs, while at the same time provide for the whole family. Hosting the video series is parent/advocate Keith Caldwell of Failuretoplan.com and ourspecialneedschildren.org.
Ryan Platt highlights "through studies completed by Easter Seals we have learned that nearly 80% of parents are very or extremely concerned with their child's future well being and financial independence, and we also know that the number one reason why 94% of families do not have a plan is because they do not know how and where to find the professionals with expertise to help."
Andrew Spafford, manager of family and organization outreach at A Special Needs Plan highlights, "Ryan started A Special Needs Plan 8 years ago. The genesis of the company was really started when he was 21 and had a health scare that he nearly did not live through. He realized at that time that life is fragile and can change at any moment, and that we must be as prepared as possible for the What if scenarios, not for ourselves but for those who depend upon us. About 12 years later he started his coursework to become a Special Care Planner, and part of that coursework was an intensive week long study portion at The American College. The last day of that course there was a parent panel, and a Mom was the last one to speak. She explained her feeling of being overwhelmed and very frustrated that she could not find qualified professionals to help her. She relayed this frustration in her repeated meetings with attorneys and financial planners, and the fact that when she would mention acronyms like SSI, SSDI, IEP, OT, PT, Speech, that the attorney or financial planners eyes would get real big, and she realized she already knew more than they did. Ryan always says, it was at that moment that he vowed to build something so that Moms, Dads, and siblings would never have to have that feeling again. So he began A Special Needs Plan and has been working to reach more and more families since."
Attached to this news release is a flyer on the topics scheduled as part of this series. Each special needs planning topic webinar will be presented live at the event page (CLICK HERE) videos will always be stored on the event page in case you missed them.
To learn more about A Special Needs Plan or to further your education on special needs planning via an educational guidebook called "The Family Advocate" please visit at aspecialneedsplan.com or at their new video education site specialneedsknowledge.org.