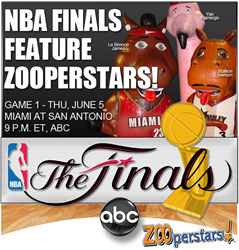 "Our crew has performed in front of 85,000 soccer fans in Guadalajara, 45,000 in Yokohama, and millions of TV viewers while on America's Got Talent, but this show promises to top all of those," said ZOOperstars! Co-Founder Dominic Latkovski.
San Antonio, TX (PRWEB) June 05, 2014
Watch for the hilarious, inflatable characters at halftime of Thursday's Game 1, as the Miami Heat visit the San Antonio Spurs.
While the troupe has previously performed in notable venues such as Madison Square Garden, Wrigley Field, and Pauley Pavilion, as well as international shows in Japan, Mexico, Turkey, and Canada, more eyes will be on this performance than ever before!
Look for Nolan Rhino, Mia Hammster, and Mackerel Jordan on the court at halftime as the San Antonio Spurs host the Miami Heat in Game 1 of the NBA Finals, which will be broadcast on ABC at 9:00pm EST.
(LeBronco James will not be appearing, per request from the Spurs front office.)