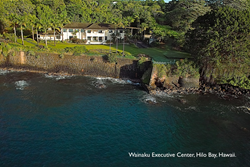 The Wainaku Executive Center embraces the best qualities for location, oceanfront, history, acreage, and the absolute beauty and elegance of a unique Hawaii property. It is an honor to represent this 'only in Hawaii' property. - Rebecca Keliihoomalu, R(B)
Hilo, Hawaii (PRWEB) July 09, 2014
On the majestic sea cliffs just north of Hilo, Hawaii, sits the former Hilo Sugar Mill compound, now known as the Wainaku Executive Center. Originally built in 1894 on one of the most prime oceanfront locations on Hilo Bay, the Hilo Sugar Mill was luxuriously renovated in 1997 using locally sourced Hamakua Koa wood. Extensive renovation transformed this historic sugar mill into the Wainaku Executive Center, an up-scale property of business offices and event space bathed in tropical flowers and immaculate landscaping. Perched above Hilo Bay it maintains its historic position as one of Hilo's touchstones to its legendary past, and in owner Ed Olson's expansive vision, its even greater future.
In 2012, Wainaku Ventures LLC, whose principal is the Edmund C. Olson Trust II, purchased the 12-acre property for $7.7 million from John W.A. "Doc" Buyers whose intention was to turn the center into a resort. Unfortunately, Mr. Buyers' health put his plans on hold, which led to the purchase by Wainaku Ventures. Prior to Mr. Buyers' ownership, the property was held by C. Brewer and Company, who did major renovations on the property turning a former warehouse into a two-story, 11,800-foot executive business center heavily detailed with Hawaii's luxurious Koa wood.
Mr. Olson purchased Wainaku with the enthusiastic desire to expand upon "Doc" Buyers' dream to open the gates to this historic property via resort, event, convention facilities, restaurants and tourist operations. Improvements were made to the grounds and buildings, and great care was given to collecting and preserving historical documents that were found throughout the property.
Ed Olson remains highly enthusiastic about the potential of Wainaku and the important position it plays in both the past and future of Hilo, Hawaii. Recently, he has undertaken another large Hilo project in his investment in the Nani Loa Hotel, which requires his focused energies. In light of this commitment, Mr. Olson wishes to find a buyer that shares his love and enthusiasm for Wainaku and who has the time and commitment to carry the project forward. In addition to the new Nani Loa Hotel project, Mr. Olson oversees projects across the Big Island focusing on sustainable agriculture, natural resource conservation, community development, and renewable operations with business ventures also including the Ka'u Coffee Mill, Big Island Eco Tours, Hamakua Mac Nut Company, OK Farms, and others.
Mr. Olson says, "I have not lost any enthusiasm or positive vision for the development of the Wainaku Executive Center and the potential for a future hotel and major tourist attraction in this location. I just cannot personally oversee all the projects I have at hand and so I must reluctantly hand off the development of this property to the next visionary."
The Wainaku Executive Center and 12-acre property is being represented by MacArthur Sotheby's International Realty through Broker, Company Top Producer, and Vice President of Sales, Rebecca Keliihoomalu. All inquires should be directed to Ms. Keliihoomalu at 808-895-1156 or via email at rebecca(at)macarthurhawaii(dot)com. MacArthur Sotheby's International Realty, a Hawaii Island real estate company with locations in Kailua-Kona, Waikoloa Resort and Kamuela, specializes in luxury residential properties. Among the top producers in the Island's real estate market for more than 25 years, MacArthur Sotheby's global marketing network provides Big Island properties with representation in over 700 offices in 49 countries with nearly 14,000 sales associates worldwide.