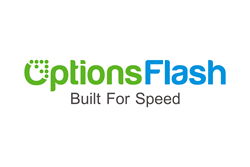 Pompano Beach, FL (PRWEB) June 05, 2014
Options Trader Michael Letsky, CEO of Robolabs, Inc., has announced the launch of OptionsFlash, the first real-time stock options market-specific screener/scanner that guarantees traders access to stock option trading data less than one millisecond after market changes occur.
Letsky developed the OptionsFlash scanner using a proprietary real-time algorithm and high-speed dedicated server farm to meet the split second nature of option trading's changing prices. For traders, having access to this rapidly shifting data can mean the difference between earning profits or losing them on extremely thin margins.
Since a majority of market participants trade online, OptionsFlash solves delay problems while allowing the trader to filter their data stream by volume, price point and ticker symbol. OptionsFlash helps investors immediately identify trading opportunities throughout the market day.
"Options traders know that the faster they receive the information, the faster an investment decision can be made," Letsky says. "Time is money becomes quite literal when it comes down to placing or missing a trade, and any profits associated with it."
Available via monthly or annual subscription with or with out Unusual Options Activity data, OptionsFlash also makes a daily email version of both available.
Other features include:

Filterable Analysis for traders who do not want to see all the analysis OptionsFlash makes available at once.
Watch Lists, five of them to be exact, for traders to keep track of their favorite ticker. Each is color coded for at-a-glance identification of watch list assets.
Mobile Formatting to fit any size browser, perfect for traders who want their OptionsFlash scanning capabilities in their smart phone, tablet or PC.
Real-Time Data Filtering (Excluded Fields) for miscellaneous (excluded trade types) which allows traders the option of excluding the values.
Real-Time Data Filtering (Values) allow traders to set minimum and maximum filtered settings.
Unusual Options Activity is shown in the scanner where the following criteria is met:

Volume > Open Interest & trade value > the minimum value (Default 75,000)
Volume > 2000 & trade value > 75,000
Trade Value > 500,000
Unusual Options Activity lines in the scanner indicate last sale information (UOA).

Real Time Data Feeds provides real time last sale information—trades that have already been executed as a trade. Also provides the Best Offer and Best Bids—quotes that have not been executed as a trade.
According to Letsky, OptionsFlash is built for speed like no other options scanner:

Latency from options exchange to our server—less than one millisecond
Computation time—less than one millisecond
Processing at 4.5 GB per second
"The latency to your computer is only limited by your Internet connection," Letsky says.
To learn more about OptionsFlash and sign up for a one-week free trial, visit the OptionsFlash website, email sales(at)optionsflash(dot)com, or call 1-877-ROBOLAB.
About OptionsFlash and Michael Letsky:
Michael Letsky, CEO of RoboLabs, Inc., created the OptionsFlash scanner after learning the options trading market from renowned day trader Andrew Keene. Annoyed by the lack of real time data and research materials available to options traders, Letsky applied his skills in engineering and his understanding of the challenges faced by options traders to develop OptionsFlash to help both professional and individual traders succeed in the fast-paced options market.
OptionsFlash is one of just a few options market data services offering streaming, real-time data that provides subscribers with the information they need to act as quickly as market prices change. OptionsFlash guarantees time-sensitive options data will be delivered to users faster than any other data scanner service.
###