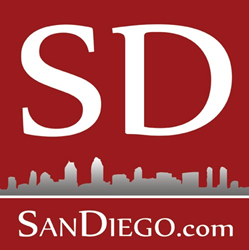 San Diego, CA (PRWEB) June 05, 2014
Go to the Beach
Head west from any part of San Diego and people will end up at one of the many beautiful beaches. Throughout the U.S. and around the world, San Diego is well-known for its pristine beaches with plenty of sunshine. When people get there, they can watch a sand castle competition, surf, swim, go for a walk, play with their dog or explore the tide.
For locals and visitors alike, San Diego beaches are the perfect place to spend the day with friends and family outside. With expensive sandy beaches, reefs, rocky cliffs, tide pools and everything in between, the beaches in San Diego are as unique as the California beach towns that were established around them.
Relax at the City's Numerous Bars
The bars in San Diego offer a delectable variety of vibes and flavors. From lively pubs and casual dives to exclusive speakeasies, sultry wine bars and coveted tequila tastings, people will surely find a private booth or bar stool that fits their spirit and mood.
Mixologists at numerous San Diego bars take their craft very seriously. Whether it is a fresh draft pour of the latest Double I.P.A from a local brewery or a cocktail with house-made organic bitters, San Diego's spirit scene bubbles with interesting, exciting and innovative creations.
Beyond what is served up in a martini or highball glass, San Diego bars often offer live entertainment. From karaoke and open microphone night to DJs and live performances, everybody should be ready to mingle, meet some friendly people and party.
Fun All Over Town
Fun activities are what makes people go to San Diego in the month of June. One of those activities is endless partying and lots of it. Join people for the Samuel Adams Brew and View, an epic summer party with lawn games, cold Sam Adams beer, live music and food trucks.
Another party event in San Diego this June is the San Marcos Rock Blues and Barbecue Festival. San Marcos will be rocking this weekend with a party that is full of mouth-watering barbecue, local craft beer and eight phenomenal bands. Phil's BBQ will be running the grills followed by a BBQ Competition on Sunday with smoked tri-tip, pulled pork sandwiches, smoked chicken, pork ribs, bratwurst and grilled burgers.
Visit the San Diego County Fair
The San Diego County Fair is one of the largest annual local events that is held in the month of June. This year they will be adopting a Game On theme highlighting nostalgic and classic games and how they have evolved over the years. Aside from that, people should also not forget to check out the animals, car shows, carnival rides, exhibits, arts and crafts, concerts, dozens of food vendors and more during this event.
Get Tipsy at the San Diego International Beer Festival
One of the events that make people go to San Diego in the month of June is the San Diego International Beer Festival. Hundreds of beers that are handcrafted from a number of international breweries will be featured. Although drinking tables will take up a large chunk of this event, there will be additional fun activities such as beer education and demos on home brewing from Stone Brewing's Bill Sayak.
Have Some Fun at the Chili Cook-Off and Ocean Beach Street Fair
As one of the biggest annual events in the city during the month of June, the Ocean Beach Chili-Cook Off and Street Fair attracts more than 70,000 visitors throughout the day for numerous fun-filled activities such as beachfront entertainment, art, a tasty food festival and imbibing in the beer garden. The chili competition will feature more than 25 tastings from amateur entrants competing for the Judges Award, Hottest Chili and the People's Choice Award.
About SanDiego.com:
SanDiego.com is one of San Diego's oldest and busiest travel and tourism websites, known as the local authority for all things San Diego. The author of this article, Chris Parks, is a native San Diegan who truly believes that there is no place more fun and exciting than beautiful San Diego!
Media Contact
Chris Parks
Editor - SanDiego.com
Phone: (858) 454-5900 x10302