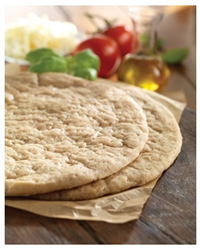 Austin, Texas (PRWEB) June 05, 2014
Smart Flour Foods, the maker of tasty, gluten-free, award-winning bread products and desserts since 2005, will showcase its delicious foods at 2014 Texas Restaurant Association Marketplace June 22-24 in Houston, TX.
Attendees are invited to come to booth 1132 in the George R. Brown Convention Center to discover just how good gluten-free can taste. Smart Flour Foods will be cooking fluffy pancakes in the morning and mouthwatering pizzas in the afternoon. Visitors are encouraged to avoid filling up on the pizza, however, as scrumptious brownies and blondies will be served for dessert.
Offering gluten-free selections helps restaurants reach a broader customer base. Smart Flour Foods not only makes it easy to add gluten-free choices, but the amazing taste of our foods ensures that those customers return time and time again. Hundreds of restaurants around the country are already using Smart Flour Foods' products, including Austin's Pizza, Fireside Pies, Gatti's Pizza, Pinks Pizza and the Original Pancake House, all in Texas.
Smart Flour Foods' products are all based on its proprietary flour blend made with three ancient grains – sorghum, amaranth and teff. This blend makes Smart Flour Foods' gluten-free products better-tasting and more nutritious than more common formulations that feature rice or potato flour. The Smart Flour blend has an enhanced nutritional profile, including more minerals, vitamins and fiber because of its use of ancient grains.
President & CEO Charlie Pace's mission for Smart Flour Foods is to offer the best-tasting, most nutritious gluten-free products on the market.
"Being gluten intolerant myself, I know how hard it can be to find great-tasting, gluten-free options. Our taste-tested, proprietary blend of ancient grains gives restaurateurs the opportunity to serve a truly differentiated gluten-free offering," Pace said. "Gluten-free shouldn't mean flavor-free. At Smart Flour, we believe that those who avoid gluten should enjoy their food as much as everyone else."
The Texas Restaurant Association Marketplace represents an excellent opportunity for Smart Flour Foods to showcase its delicious, gluten-free, award-winning bread products, desserts and pancake mixes to a wide variety of potential restaurant customers.
For more about Smart Flour Foods, please visit http://www.smartflourfoods.com. To interview members of the Smart Flour Foods team, please send an email request to pr@smartflourfoods.com.
ABOUT SMART FLOUR FOODS
Smart Flour Foods LLC, located in Austin, TX, has been a provider of tasty, award winning, gluten-free pizza, bread and dessert products since 2005. Contrary to most gluten-free products made from rice flour, Smart Flour Foods makes its products with a unique blend of ancient grains, including sorghum, amaranth and teff. This blend, dubbed Smart Flour™, results in gluten-free products that taste better, have better texture and provide a higher level of essential vitamins and minerals. Smart Flour Foods offers a retail line of frozen pizzas and crusts available in a number of natural and specialty stores around the United States, as well as providing a food service line of pizza crusts, desserts, other baked items and flour mixes to hundreds of fine restaurants across the United States.
Website:
http://www.smartflourfoods.com
###