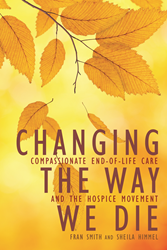 "The words of patients and hospice people that fill Changing the Way We Die reflect great wisdom and self-honesty." —Joan Halifax, Ph.D., author of Being With Dying
(PRWEB) June 05, 2014
In a recent article for Psychology Today, Viva Editions author Fran Smith looked at a recent survey done of doctors' own preferences for end-of-life care. "Why Doctors Don't Want Their Own Medicine When They're Dying" explores how the majority of doctor do not actually want the aggressive treatment that they often prescribe to their patients.
The survey found that nearly nine in ten doctors just completing their training would not want CPR if they were terminally ill and their heart stopped. Smith and Himmel write, "In this wish, they are not much different from the rest of us. Eighty percent of patients say they hope to avoid hospitals and high-intensity care at the end of their lives. Yet more and more people are transferred from one health facility to another or wind up in the ICU in their final days and weeks."
Fran Smith is one of the coauthors of the new book Changing the Way We Die: Compassionate End-of-Life Care and the Hospice Movement. She is a writer, editor, writing coach and communications consultant. Fran's work has appeared in O, The Oprah Magazine; Redbook; Salon; Good Housekeeping; Prevention; Health; the Los Angeles Times and dozens of other newspapers and magazines. She has won many awards for health and medical writing and shared in a Pulitzer Prize as a reporter for the San Jose Mercury News. She is a frequent speaker on health writing, the power of storytelling and effective communications. She lives in New York.
Once viewed with suspicion as a New Age indulgence or fringe religious practice, hospice has become a $14 billion-a-year business and arguably the most successful segment of health care in America. In Changing the Way We Die (also available as an audiobook), award-winning journalists Fran Smith and Sheila Himmel investigate what hospice means to today's aging population and their families. It's the first book to take a sweeping look at the hospice landscape, reporting the stories of patients, caregivers and cutting-edge researchers, as well as the corporate giants that increasingly own this market.
Join the authors at these events:
6/5: Third Place Books, Lake Forest Park, WA - 7pm
6/12: Beth Hillel Congregation, Wilmette, IL - 7-9pm